I know Tuesdays are primarily reserved for Beauty Talk Tuesday, but I'm going to be mingling a few topics into one today: Beauty & Fitness. I'm not much for introductions, so let's jump on in.
My honest thoughts of what I received in my June edition of Glossybox. Ahem, even though I thought my last months box was June, but it was actually May.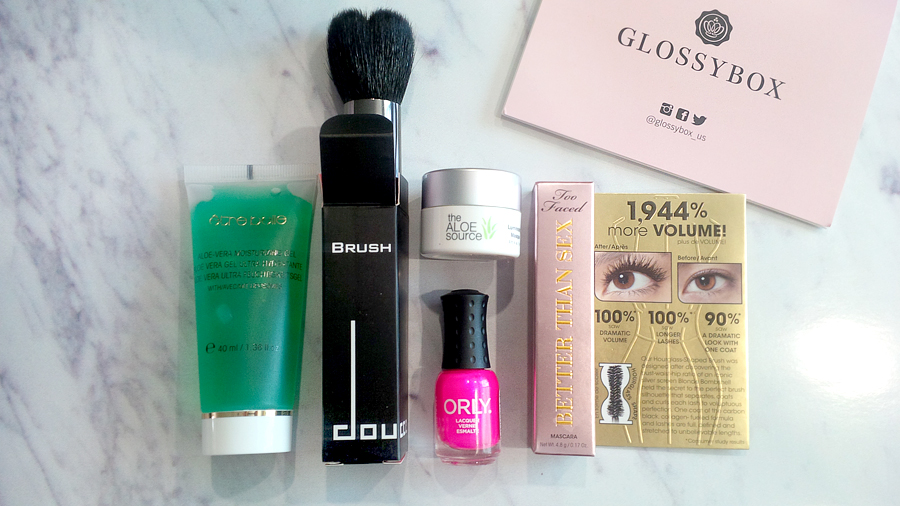 Être Bellle Cosmetics: Aloe vera ultra moisturizing gel (Most likely won't use this product)

Doucce blush brush. This is supposed to be round top a kabuki brush, mine is distorted and shaped like a heart and I'm not sure I like the quality (I will 100% give this product away)
Aloe source luminosity masque (Wish this was sealed, I won't be using it)
ORLY nail lacquer: Oh Cabana Boy (I love this colour and formulation, will be buying more ORLY for sure)
Too Faced Cosmetics: Better Than Sex Mascara (I've been eyeing this mascara up for a while, and I'm finally excited to try it out!)
I've been wearing the ORLY nail polish since I got it, removed it once it then re-applied. It's a gorgeous bright pink with blue undertones. I'm going to buy the full-sized with how quickly I seem to be going through it.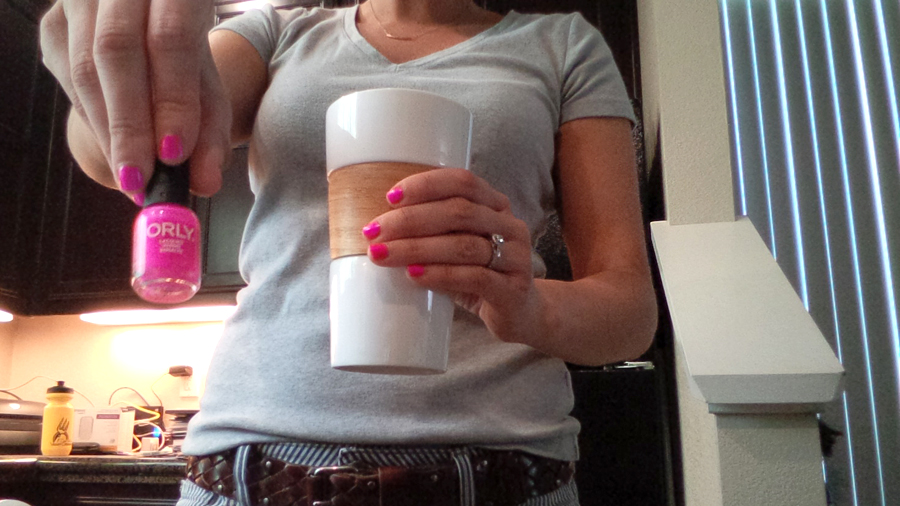 ---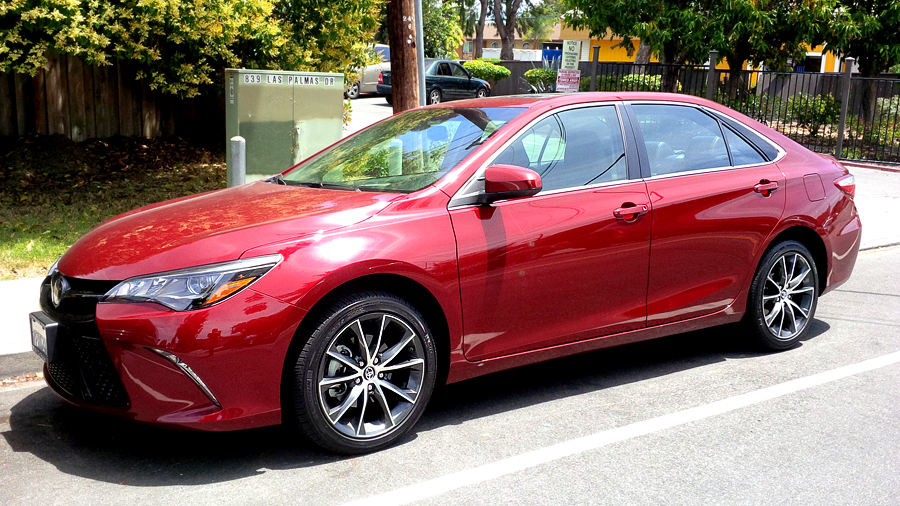 This is our last weekend with the Toyota Camry which I'll be chatting more about it when I get my YouTube vlog up. I'm enjoying the Camry much more than the Prius I had, because it's a bit larger which I feel more comfortable in, and has a ton more power. Hoowee!
My husband will be kicking up his training a notch come July, so I'm enjoying our recovery runs as he likes to call it. More like a run goin' out full tilt for me. Those run together knocks the good out of me. I do solo runs throughout the week, which I don't blog about because I'm not entire sure what to say about it all. But I do have to mention, I'm pretty sure the only reason I sprint a 4:40min/mile at the end of our run is because I see our house, and I want to be finished. ‪#‎IHateRunning‬. Please bare in mind that I only sprint for maybe 150m, if that. I just like to know how fast I COULD run, if wild animals were chasing after me in the woods, I mean pfth ya never know. As for my regular pace I've been wearing my Garmin and check it every 30 seconds or so like a mad-woman to make sure I'm keeping the pace I need to. I'd prefer to keep it under a 9:40min/mile the entire run, which was easier this week — because my mind was preoccupied with family back in Newfoundland and pushed me a little extra.
Alfie and I hanging out on our porch after our run. He's trynna get some shade to cool off! Buddy has some fast little legs on him, and he can definitely keep up with a slow-poke like myself. I think I'm in need of a new pair of Mizuno's though soon. I've had these babies for a good year or more. Not that I put on a TON of mileage, because I'm not a long distance runner, but I can tell the cushion is startin' to flatten.
Not the smoothest transition from talking about swimming to running, but…
I come from a family of swimmers, however I didn't keep it up for the long run because I was a wimp and decided to quit after I failed my Bronze Medallion class when I was away at camp at the age of 16. But if you want to get into the nitty gritty, my husband, he's a 5x Ironman Triathlete, my brother played Water Polo, my fav cousin ever ever is a swim coach and taught me to swim as a youngster, and my parents were yachters.
Needless to say, we were at the pool a lot as a kid, and even now with the husband as he trains for Ironman Lake Tahoe in September.
He wants to qualify for Kona this year. Crossing our fingers!
On Saturday my triathlete husband and I were invited to listen in on the Swim Today panel with 3x Olympic Gold medalist, Rowdy Gaines and two fathers of Olympic medalists at George F. Haines International Swim Center in Santa Clara.
Through SwimToday, teams nationwide are inviting new swimmers and families to experience the sport with incentives such as free swim team trial periods, and customized swim caps. 62% of families live within 10 minutes of a pool, and if you're interested, parents can learn more about participating teams and find those nearest them by searching their zip code at Swim Today.
You don't have to be particularly athletic to learn to swim. There's a reason why swimming is almost the perfect exercise. It's low impact and is a sport anyone can do, including those with sore arthritic muscles and joints. Because water is denser than air, you can work harder and burn more calories (650 in an hour!).
This Santa Clara swim club is a huge outdoor complex with 3 pools, two 25 yard and one 50 meter. So it's pretty huge and little did I realize that same day, Michael Phelps was also there, along with other famous swimmers for the #ArenaProSwim this weekend. I guess this is the primo location for some competitive swim meets.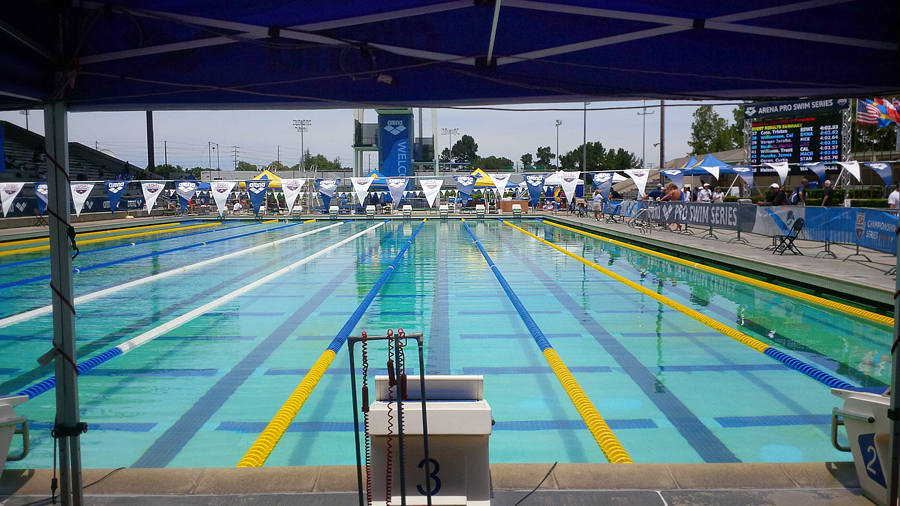 Ya knows I felt right fancy strollin' around in the VIP section with my piddly BlackBerry takin' snaps while photographers from companies like Getty Images were walking around with their humungo-cameras doing the same thing. While we were listening to the panel, this area was jam-packed.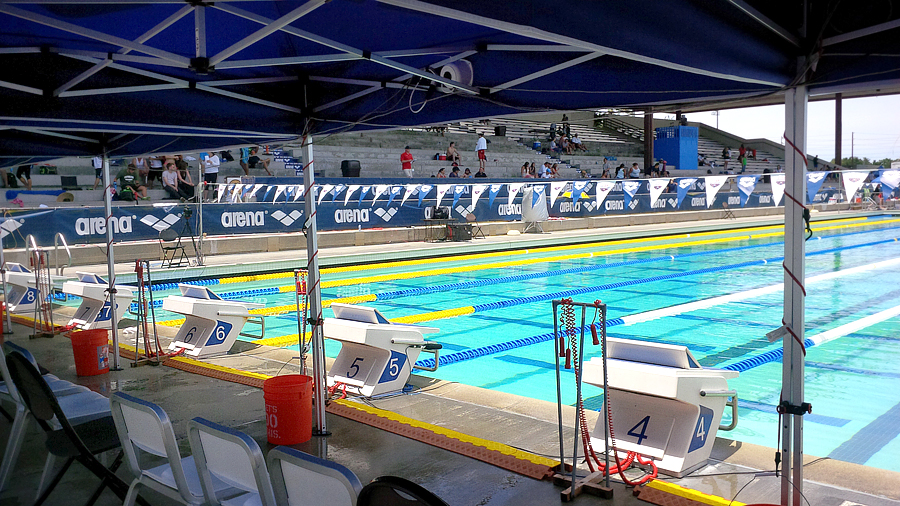 Michael Phelps swam in lane 5, right there for his 400m swim! Ahh!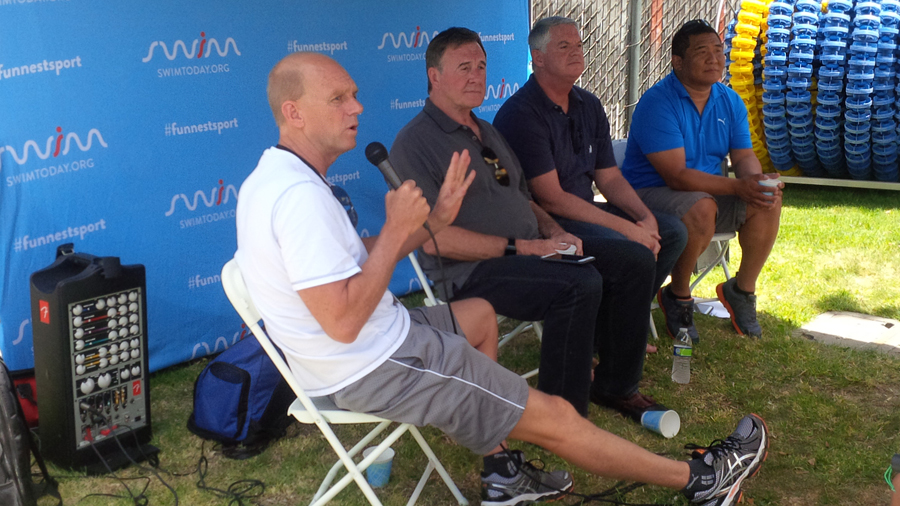 Swimming as I stated above, is such a family sport. You could simply see all the passion in their faces as they light up talking about it being a family oriented sport. You make friends with other families from other clubs. Sure there's competition but you're seeing them every week, and you come together in a tight knit bond, which was discussed on the panel this past weekend.
Naturally, me being the non-swimmer of the family I asked my triathlete husband to take a picture of me and the Mister G gold medalist from the 80's. Weehehe!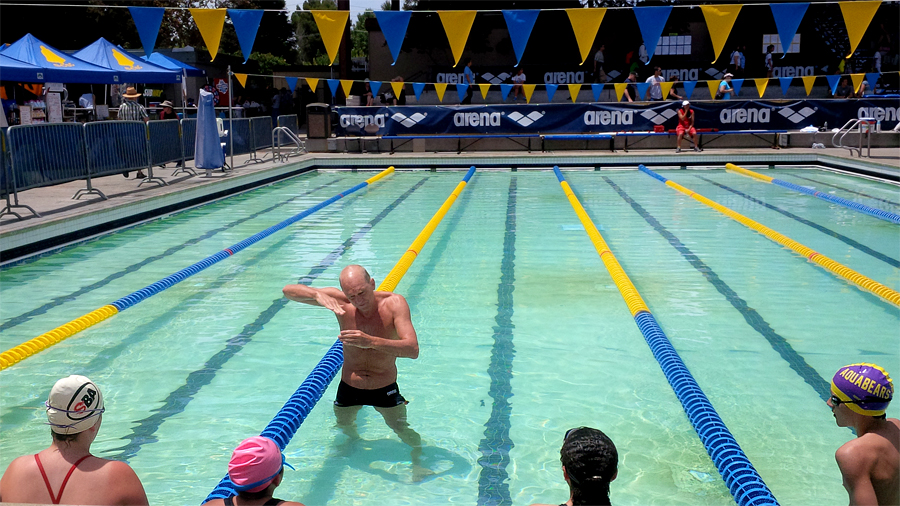 Rowdy stated, pure and simple if you don't enjoy it (in any sport) you're not going to be any good. Ain't that the truth. He has a wonderful sense of humor that meshes well with the kids. At the end of the swimming lesson he raced all the kids one length of the pool and said whoever wins, will get a million dollars. It was a pretty close call for one teen and him, swimming that length was all documented on
a video I posted on Instagram
.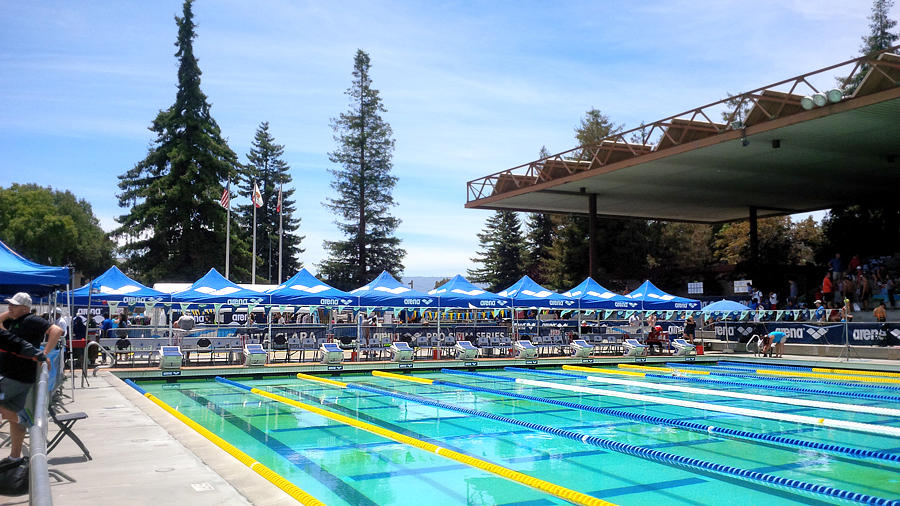 Dick Franklin, father of Olympic Gold Medalist swimmer Missy Franklin, and I had a bit in common. We had a quick chat about being from the East Coast of Canada; he being from Nova Scotia and of course as you guys know my husband and I are from Newfoundland. Dick grew up playing football and scuba diving, so when Missy was younger, he didn't quite understand the technicalities of the swim sport. At around the age of 12 or so, Dick and his wife realized that Missy's talent was something special and they needed to encourage it. Missy had always enjoyed swimming, getting up a 5am in the dark, and having her mother cook her breakfast and her father warming up the car in the driveway while it was still dark out. He joked she was havin' a ball.  She always had fun. That intrinsic fun makes any kid move forward over the long haul.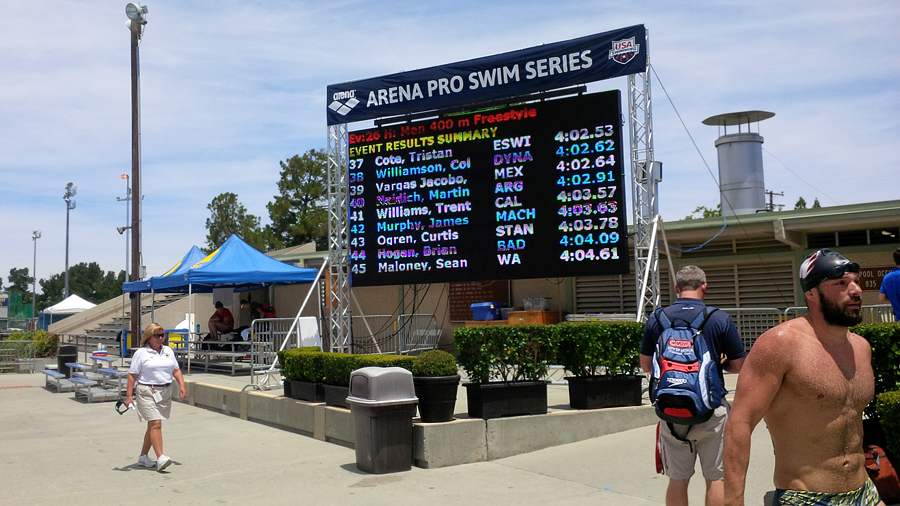 So a huge thanks to Swim Today for inviting us out to participate and check out the arena for the first time and talk about swimming being the #FunnestSport. Especially listening to the proud Father's of Olympians just before Father's Day. Well, and of course not to mention some of the super fit male swimmers coming out of the water, hooboy. Yeah, sure I needed to take a picture of that score board.
Are you a swimmer? At what age did you learn to swim? Are you looking for a local swim club near you?