Tuesday morning I made my way over to Valley Fair Mall in Santa Clara. After being there a handful of times since moving to NorCal, I knew this would be the mall I'd probably frequent more often than the others around my area. This mall reminds me of something you'd see in Toronto's Yorkville area. It was up scale on one end of the mall, and the other end had regular mall stores like J.Crew, Sephora, Nordstrom, and an amazing free standing MAKE UP FOR EVER store.
Since I've been working with the Canadian team the past few years, I was e-introduced from my Canadian contacts to the American side of things. A consultation was made for me and I headed into the store to talk a bit more, and meet my new buddies, face-to-face.

So that's what I did! Talk about a sweat-fest. I get intimidated easily, and then resort to being introverted and shy. I was a little nervous going in, but I did it and it wasn't awkward, or frightening in the least. I had so much fun.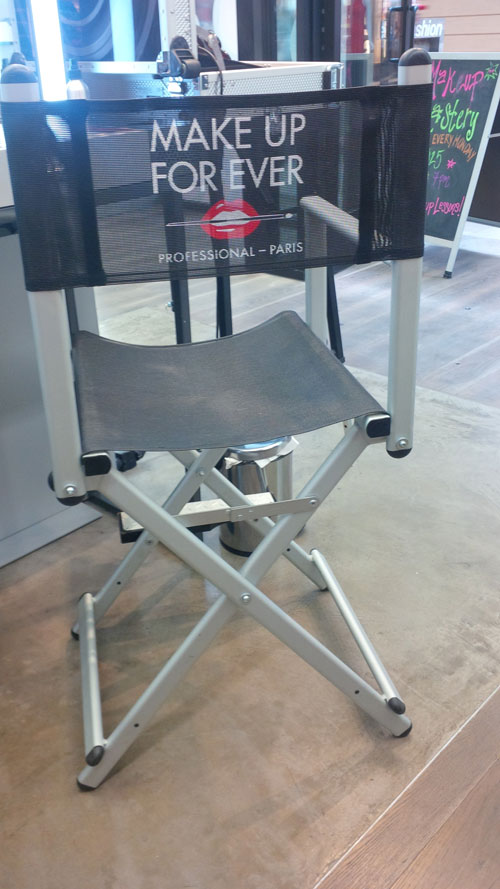 I plunked my toosh down into one of these chairs and little did I realize, we had such a blast playing with make-up and learning a few new beauty tips, I was there for over two hours! I guess that's what happens when you put a few gals interested in make up together in a room.

Just because I work with certain brands, doesn't mean that I love everything they have to offer. I like to be transparent and tell you (or anyone for that matter) what I think. When I went for my consultation with Tobey, we talked about doing a complete makeup look. I notified her that I wasn't a fan of the Mat Velvet+, or the HD foundation that everyone seems to use and love. Both are too matte looking on my already dry face, and offer full coverage which I don't need, nor strive for. I knew the consistency of MAKE UP FOR EVER's face and body was very water based, and had a medium coverage. Troy Jensen, told me to try that when he came to Sephora at the Toronto Eaton Centre last fall. My local Sephora in Kitchener-Waterloo didn't carry it, so I never really got the chance to try it out.

Tobey used it on my face and I loved it immediately. You know how some foundations you really need blush, or bronzer to give your skin some depth, otherwise you'd look all flat? This foundation didn't. Needless to say, we didn't stop there.
Next up was the new HD blush. I picked out this colour because I knew already I had the universal colour in shade 410 Coral to play with when I got home. I don't remember the name of this shade, but I can find out if anyone is interested!

The final look (left) was definitely a lot more make up than I was used to wearing, especially with lip liner. I'm not entirely sure I'd wear a liner because quite honestly it just takes up too much time and you need to be precise. I didn't love the look of the liner but it was sure fun to play with the make up for a while! On the right, I'm still wearing everything but the lip products. Tobey also filled in my eyebrows which I LOVED. Emphasis needed. They looked fuller, and very natural. Can you even tell they're done? I can't. The Guy couldn't either. He did make one comment though which confused me. "I don't like those hooks". Uh. What? I had no idea what he was talking about — at first I thought he meant my eyebrows, but he was talking about the winged eyeliner. Ha ha!
Face:
HD Primer, MAKE UP FOR EVER
Face and Body Foundation, MAKE UP FOR EVER
(for under eye) HD Concealer, MAKE UP FOR EVER
(for face) Full Cover Concealer, MAKE UP FOR EVER
Mat Bronze, MAKE UP FOR EVER
Pro finish , MAKE UP FOR EVER
HD Blush, MAKE UP FOR EVER
Luminizer, MAKE UP FOR EVER
HD pressed powder, MAKE UP FOR EVER
  Eyes:
Mascara, Buxom
Aqua Creamliner, MAKE UP FOR EVER
Aqua Brow, MAKE UP FOR EVER

Lips:
Lipstick, MAKE UP FOR EVER
Aqua Lip Liner, MAKE UP FOR EVER
At the moment I'm rotating and sometimes using three foundations in the run of a day: Estée Lauder Double Wear, Dior Hydra Life BB cream and DiorSkin Nude BB Cream. I'll be adding this as my fourth in rotation (or mixing in with them all) in my make up routine.
I headed home with this amazing generous goody bag that the NYC head office sent down to me. Whoa! I've been playing with it all the last couple of days.
I can't wait to head back there in April. They're launching an eyebrow bar inside the MAKE UP FOR EVER store. While I do have nicely shaped brows, they could definitely use a little help to thicken them up and open my eyes a bit.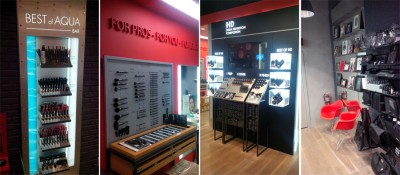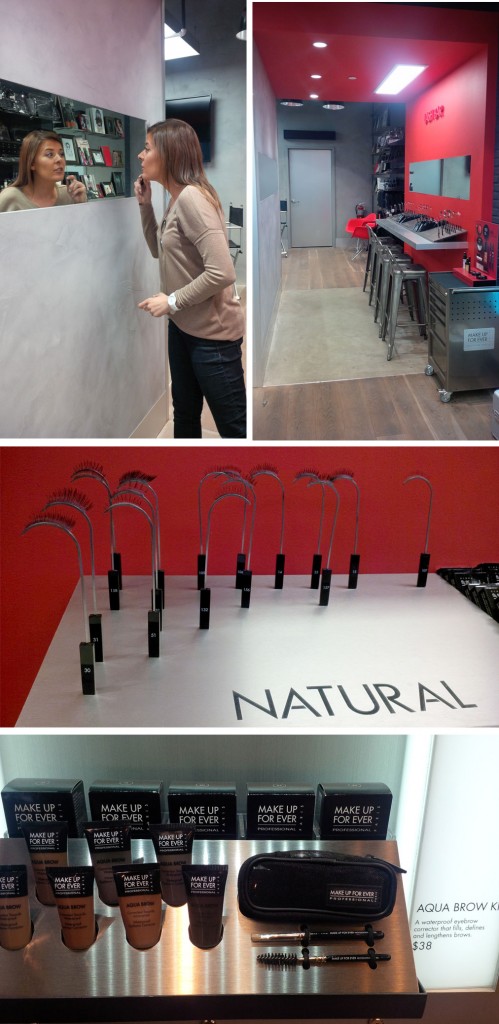 I don't recall if this is the only lash bar in the USA at a MAKE UP FOR EVER boutique, or if there's just a handful. Either way, I'm stoked that it's at a location not terribly far from where I am. I haven't tried my take at applying false eyelashes before. I'm a little intimidated by them because I know I'll put them on sideways. But I did have fun playing with the wands, and seeing what ones looked fun, or just easy-to-wear natural.
If you're ever in the Santa Clara area, visit the MAKE UP FOR EVER boutique in Valley Fair Mall.
Ask for Tobey. She definitely knows what she's doing.