Today was raining and I was bored, so I decided to hit up our gym in the complex here. My husband and dog were both sleeping, so I figured why not?
I put on my workout clothes and then did a speedy 20 minute run on the treadmill with 8 minutes of walking. It was pretty sweet.
I just sort of made it up as I went. I tried to mimic my first ten minutes but I knew I probably couldn't keep up the 7.5 speed for 3 more minutes.
Instead I wanted to do a little speed/slowdown/speed up again type of run.I know that the weather is nice and all, here in California. But I actually prefer running on a treadmill and watching TV. I'm probably the minority here, but does anyone agree with me? I feel like if I'm running outside I can't just go pee whenever I want, and I can know exactly how to pace myself on a treadmill, which I can't do outside. I don't know why.

I've been using my Mizuno Wave Riders and they haven't been giving me any issues at all. No rubbing on my feet whatsoever.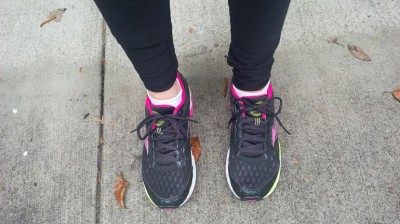 Pretty comfy if you ask me.
Shortly we're going to check out Trader Joes, hopefully they have some dried unsweetened mango in stock.
What are you up to today?
When's the last time you ran on a treadmill?
Stay tuned for tomorrow's post as I'm talking about some delicious tea!