Longest blog post title ever. But I'm calling it what it was.
The Foundation Nation event at Make Up For Ever with Troy Jensen was an experience I'll always cherish.
I feel like Make Up For Ever has taken me under their wings and helped me immensely, with growing not only my blog but with me as a person. Once I arrived at Sephora in the Toronto Eaton Centre, I was greeted with sincere heartfelt hugs from the girls I know on the Make Up For Ever team. It's so good to know them mostly all by name and being greeted with such authenticity.
My peeps and I. hahah Just kidding. I don't know half the people in the pic. Lindsey (blonde hair) is the only one I know!
I feel so grateful that they keep inviting me to these fantastic once in a life time (for me) events because I'm not a beauty blogger. I don't like putting labels on myself, and as I've said many times I can't just stick to blogging about one topic because what if I get bored of what I talk about? Then I start getting fake and not being true to myself. I can't let that happen sure, right? Which is why I blog about beauty, fashion, sports, my lifestyle and food! I love it all, and that's how it's going to stay. I'm not going to change — ain't' nobody got time for that!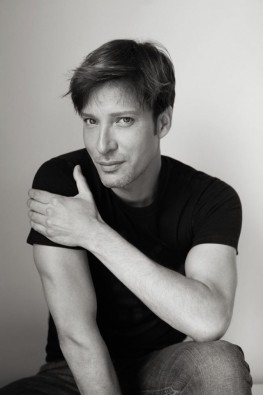 Celebrity make-up artist Troy Jensen* is touring with a Make Up For Ever's Foundation Nation campaign promoting their new Pro Brush line and HD foundations. Troy was at Sephora Toronto Eaton Centre giving beauty bloggers tips and tricks on how to achieve a flawless complexion. Foundation Nation campaign was created to help women address their common challenges with foundation. How to stop colors from oxidizing, why to change up your foundation each season, and little tips and tricks on achieving certain looks.
* Troy has done countless makeup looks for Kim Kardashian! Fan girl alert!
I must've had an inquisitive face and to my surprise he asked me directly if I had a question for him. A little caught off guard, usually I'd go blank in that sort of situation and shake my head no. But I ended up asking him a few questions. I'm more into skincare and complexions than playing with make up so it's right up my ally when I want to learn how to look create an even, natural complexion with some luminosity.
Did you know that you should be swapping out your foundations each season? I sure didn't until Troy told us! I always wanted a dewy luminous look to my skin, year round. I do self-tan often but do have varying shades of the foundations I wear. I'm going to have to research a little more on what types of foundations will work for my dehydrated skin coming up in these cooler months.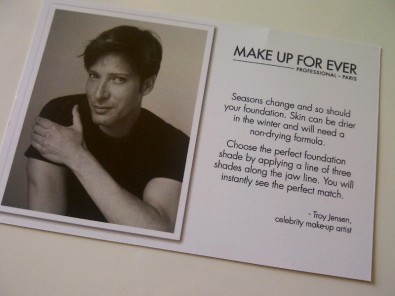 Some of the tips he mentioned was that when creating a contour on your face, rather than using bronzer he often simply uses a darker foundation shade. Smart thinkin'.
Make Up For Ever tweeted this photo during the event. I spot me!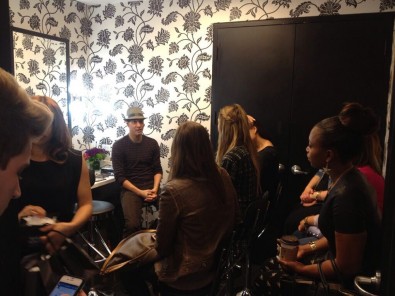 Gah. So close.
Even closer ;)
After our intimate session with Troy Jensen we were each given mini consultations on complexions.
I was in tears laughing with Alisha, a resident make up artist from Make Up For Ever at Sephora Toronto Eaton Centre. She told me I was hilarious and full of energy. We were joking and carrying on, I simply did not want to leave the chair I was in! So much fun. Rather than having a foundation overhaul, we decided on going with a bold red-orange lip with some bronzing and highlighting on my face. Which was phenomenal. Loved the look Alisha created on me.
I did learn a few tricks about lip liner, where to start and how to connect the 'lines' of the liner, also on how to work with a bigger lip 'crayon' which I have been using with other brands. She gave me tips on how to create a very sharp line with a tool like that.
She also bronzed and highlighted my face, complimenting me on my own makeup but mentioning I had great cheekbones and she wanted to emphasize that more. Alisha used #8c lipliner and #40 lipstick for my pop of colour, and #30 bronzer, #3 shine on (highlighter) for my face using the new 112 Straight & Wavy brush that I got to take home with me! Along with a goody bag with the Sepia Blue eye shadow palette.
Thanks again, Make Up For Ever! My statement could not be more true: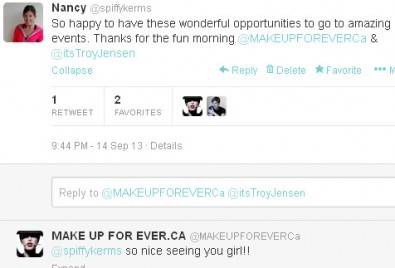 Here are some links to where you can find Troy and his work:
Check back tomorrow and see what's inside all my shopping bags when I went to a blogger meet up after the event!