If I really enjoy something, I rave about it. So much so that I influence other people to buy their products.
For instance, it's no secret that I enjoy Fossil leathers & watches, Make Up For Ever mascaras and even the philosophy skin care line. My co-worker showed me her new purse and iPad cover that she bought from Fossil yesterday. YESTERDAY. I took photos of it, so it'll be up on my site soon. When I went out to dinner with my blog/twitter girls, one of them mentioned she bought a Fossil watch due to the fact that I raved about them so much.
Well, I'm sure you already know that I have been loving the Philosophy Purity product —it's the only facial cleanser that I will allow on my face. I bought a 700ml bottle of it and I just used up the last drop of it last weekend. Thankfully, I have backups in sample forms and I am currently using that.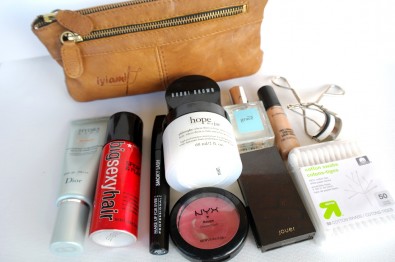 Silly me – I don't know why it's not even in my make up bag. It shoud've been in this photo.
Plus? Philosophy will be at BlissDom Canada this year and I get to say hi to the folks I've been talking with via e-mail for the past… oh, forever. They get to meet the Philosophy addict (ahem, me) right in the flesh. Lucky them!
Enough talk about how much I love them. Hopefully you will start to enjoy them as much as I do because they have a great deal going on right now at Hudson's Bay.
Now until September 24, with the purchase of $65 worth of philosophy product, you will receive:
exclusive black tote featuring a polka dot ipad case

full size lip shine

purity deluxe cleanser

hope in a jar deluxe moisturizer
I have better news.
Whooo buddy, you guys are gettin' spoiled! I'm giving away everything you see in the photo above with the deluxe samples included.
Pretty good right? Please note this giveaway will end on September 24 at midnight EST and is only open to Canadians. Please use the rafflecopter form below to enter :)