I've known some of these girls longer than I have known my boyfriend. That's over 8 years, you guys! And last weekend was the first time that I've met some of them in person — finally!
Leanne (to your right) met me at Sephora right after the Make Up For Ever event I went to. We've been online friends for so many years that I can't even remember when we "met". She too, is originally from Newfoundland and moved to Ottawa a few years ago. Then, a few weeks ago she and her fiancé up and moved to Toronto. Uh, a meet up was certainly required at this point. We then left the Eaton Centre immediately to go snag Erica who was waiting for us at Union station. Also the first time that I met Erica and we're not even that far away from each other. Oops.
We took the subway to Yorkdale mall where we all did a bit of shopping. Leanne picked up a pretty bracelet from Kate Spade and me? Well let's just say that I don't shop in Toronto often and when I do, look out.
Forever 21 had their already cheap jeans on sale for $7.80. I already have a pair of these from a year or two ago that I decided it was time to break the bank and spend another whopping eight bucks on a pair. Ouch, I'm not sure how I do it.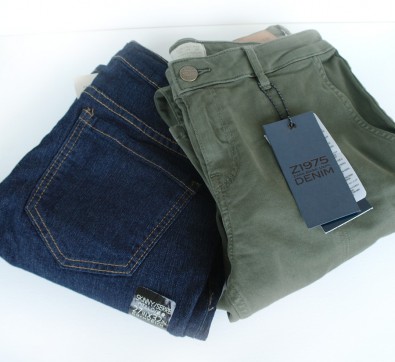 Ever since last year I've been itching to get a pair of khaki green pants. Zara had them for $54 and it stung a little, especially after paying $8 for a different pair at the previous store. But I bought them. I wanted them. In my shopping cart they went.
Also picked up this cozy knit scarf from a different Zara location, along with some Aveda's air control hair spray. My fav.
We went to Hemingways in Yorkville for some grub and stayed for hours just chatting, telling stories and laughing. Thanks for the photo, Amy.
Me, Noreen, Laura, Amy, Erica @ Wastemytime.ca, and Leanne @ Fresh-Season.
I ordered sweet potato fries and the Out of Bounds Chicken Salad.
It was as great as it looks.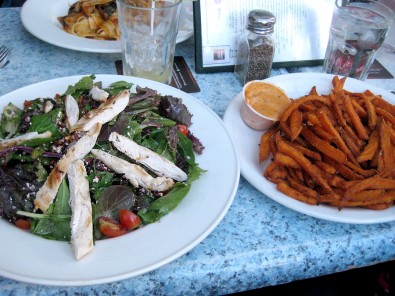 It was definitely well worth the trip into Toronto, specifically for the fact that I think I met some life-long REAL friends during this outing. Love to Leanne! I think I should probably make it a monthly occurrence to visit her in Toronto. Whatta ya say.
What do you have planned for this weekend?
What are some of your favorite restaurants in Toronto?
Don't forget to enter my Philosophy gift set giveaway, for Canadians only.