I'm definitely going to be indulging in some decadent foods quite a bit this December. Friday the marketing and IT team of four got together for our Christmas lunch and went out to a pretty fancy place. Yesterday we had a pizza day sponsored by a company we work with. Then tomorrow or Thursday we get a TURKEY DINNER for lunch. Someone had better set up beds for us to take afternoon naps.
Aimster and I in the back of Dennis' fun car.  We stopped dancing and singing to Christmas music to snap this pic.
I ordered some zucchini sliders which was phenomenal and should've just ate these for my lunch instead of sharing. They didn't resemble zucchini at all, which was weird. It was just delicious and I wish I ate more than just one.
My food didn't photograph well because it was a bit dark in the restaurant. Mine was the left one, it was a BLT which was just ordinary. Dennis ate a chicken basil sandwich which he said was enjoyable.

The restaurant is only a few weeks old as they just opened for business. But the atmosphere there was really industrial. I wanted to take more photos. But that just means I'll have to go back to eat there again. Mainly because they totally sold me on the desserts. Rather than bringing out a menu, they brought out all their desserts on a tray and I picked them that way. I went with a cheesecake topped with fresh fruit but it didn't end up being available (maybe the one's on the tray were fake?) so cherry topping it was. I was cool with that. It was very light, and hit the spot.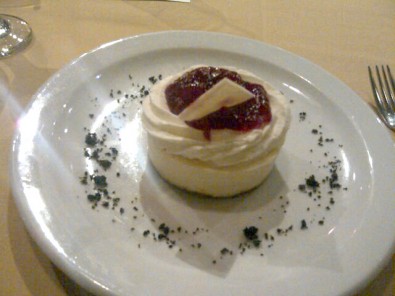 Full bellies are happy.
I took the bus to Toronto to meet up with Leanne on Saturday, since I haven't seen her in over a month. Missed her face! It's always so great to see her since our personalities are pretty much the same. Must be the newfie blood. We always laugh and have great conversation when we're together. We were supposed to meet up two weeks prior but we were both sick with a cold and decided to postpone it. So glad I did. We ended up shopping all over Toronto and grabbing a nice lunch at Hemingways in Yorkville. I loved the food I had so much last time I got the same things, again. What can I say, we are all creatures of habit, hey?
Out of bounds chicken salad with candied pecans, cranberries, feta cheese, tomatoes and raspberry vinaigrette with a HUGE side of sweet potato fries and chipotle mayo. Frig, it was good.
We exchanged Christmas presents. Leanne knows me all too well. Candy and Living Grace by Philosophy perfume in roller ball format. OMG.
I had a 40% off coupon (well, spend over $50 get $20 off so I tried to stick to that) at Sephora before we went to lunch and I got a whipped body butter in the same scent. I'm all set for a little while there yet!
My coworker also loves the scent.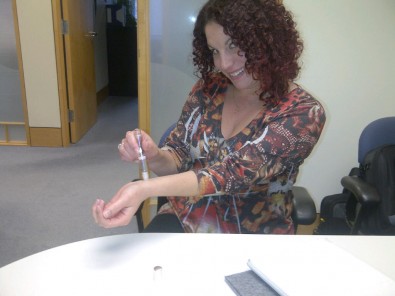 I wish Leanne or I had a pedometer to track the kilometers we walked on Saturday. We walked for HOURS. At one point we decided to walk all the way down to check out the Lowe's Distillery District Christmas Market.
It was so crowded. But we couldn't leave without getting a photo with Santa. Leanne cropped herself out because she was blinking :(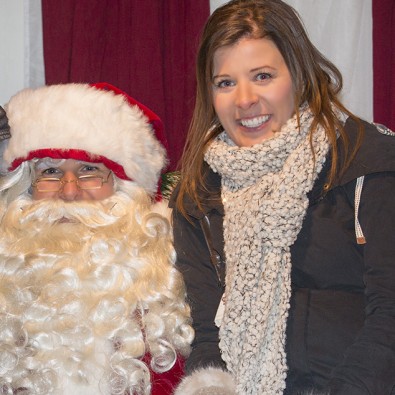 We were the only adults in line but I didn't care. We were determined to not feel like creeps and sit on Santa for a snap. It's been so long since I've seen him!
Leanne was wearing a skirt with tights, inappropriate attire for -4º and my face was falling off and feeling numb so we headed back to the Eaton Centre to grab a starbucks to warm up and rest our tired legs. Love the Toronto Eaton Centre's Christmas decorations. Look how huge that tree is!
The Greyhound changed their bus tickets. We have to take the bus back at a certain time when buying tickets. So if one missed their bus, they'd have to pay a fee. I like to be early so we said our goodbyes around 7:30 so I could catch the 8pm bus. I realized I'd be way too early so I went into Forever 21 before walking around the corner to sit on a bus for a half hour, and bought a cute coin/card purse.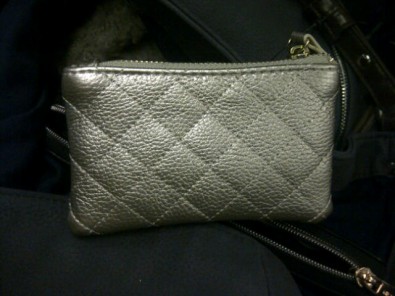 I didn't buy too much while I was there. I bought myself another pair of very thick Anthropologie leggings. I messed up. I should've bought them in the States ($10 cheaper). I also spotted my long cardigan that I bought in the USA, and it was selling in Canada for $20 more. Ouch. I need to shop in the states more often. I also got my Mom, Dad and the Boyfriend another few Christmas presents, so I can't show those ;)
What did you do this weekend?
Are you finished your Christmas shopping?