Many of you most likely have summer travel plans with your family. Canada Day is coming up July 1. Independence day on the 4th. Maybe you will be taking long road trips or airplane rides – but if you have small children you have to be prepared to entertain them along the way. Comes with the territory, right? My boys are 5 and 2 and luckily play really well with one another (lately, anyway!). But I also want them to entertain themselves when one wants to rest or simply play alone.
I've curating a collection of activities that are specifically designed to entertain/educate kids during long-haul summer flights/road trips. I'm not against using screens as an option when it comes to flights or car rides, but my youngest definitely bores of screen-time easily. Here are some other options, folks!
1. Magnetic Building Blocks: Magnetic building blocks are easy to pack and provide endless possibilities for creative construction during the flight. They can be stacked, connected, and built into various shapes and structures.
2. Water Wow Books: Water Wow books are mess-free coloring books that use a special water pen. My boys can fill the pen with water and "paint" on the pages, revealing hidden colors and patterns. Once the pages dry, the colors disappear, allowing for continuous use. I bought these from Target, and we've never had them before. Thanks to a friend for recommending this one.
3. Miniature Playsets: Portable playsets with themes like airports, construction sites, or farms can spark imaginative play. These sets often come with small figures, vehicles, and accessories, offering interactive play options for the boys.
4. Sticker Books: Sticker books featuring their favorite characters, animals, or themes can keep boys entertained for extended periods. They can create scenes, decorate pages, and engage their fine motor skills while peeling and placing stickers. I bought some dinosaur ones with reusable stickers from Daiso the other day.
5. Puzzle Games: Compact puzzle games with large, easy-to-grasp pieces are ideal for airplane travel. Look for puzzles with age-appropriate difficulty levels and themes that interest the boys, such as animals, vehicles, or superheroes.
6. Travel-sized Board Games: Look for travel editions of popular board games like Connect Four, Guess Who?, or Uno. These compact versions usually have magnetic or snap-on pieces, making them perfect for in-flight entertainment.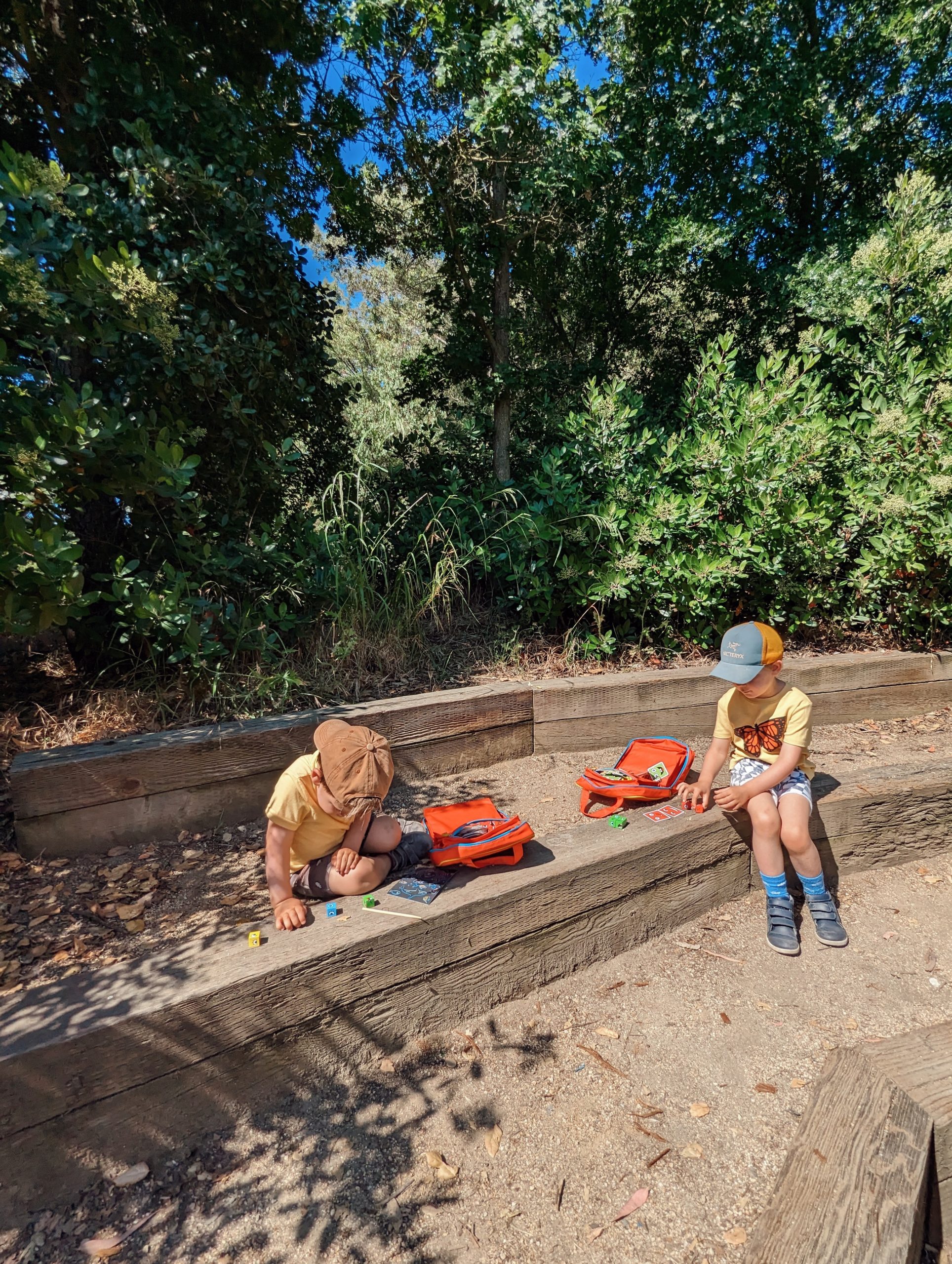 7. KEKE (Keep Every Kid Engaged): This grab-and-go bag (see photo above!) provides a convenient and organized solution to keep children entertained and learning, no matter where they are. With Keke, educational and fun activities are easily accessible, making it an ideal companion for travel, dinner time outings, or even quiet time at home. The bag is thoughtfully designed with pouches that focus on developing various emerging skills, ensuring a well-rounded experience for children. It promotes cognitive, fine motor, and sensory development through its diverse range of activities. With its 3 colours to choose from and compact size, Keke offers a compact and all-in-one solution that grabs children's attention, and encourages learning.
8. Travel-friendly Arts and Crafts: Consider compact arts and crafts kits that include coloring supplies, stickers, or simple craft projects. We're bringing some plain sketchbooks, small colouring books and crayons, little toy cars, and playdoh!
9. Sensory Toys: Sensory toys like squishy balls, fidget spinners, pull-back toy cars, or stress balls can provide tactile stimulation and help relieve anxiety during a road trip or flight.
10. Doodle boards: We have used these in the past for my oldest for a flight back in 2019. He enjoyed drawing and erasing his doodles! You can find dual-packs of them on Amazon for about ten bucks.
And don't forget to pack endless snacks/drinks!
Go ahead and keep an eye out on my Instagram for a giveaway with KekeKidCo. Rules are always simple, follow both me (spiffykerms) and KekeKidCo and give me some travel tips in the comments! I need all the help I can get. We've never travelled with two kiddos before, am I missing anything?