30 seconds within getting into bed, I'm in a deep slumber. I'm not sure if I've always been that way, but my Husband constantly lets me know how he too, wishes he could sleep as restful as I do. I blame the pillow top mattress he picked out for us a few years ago. It is SO comfortable. Unfortunately for him he doesn't get much rest, and tosses and turns all night long waking up more tired than he was the night before. Half of the problem is probably because we have a double-sized bed. Despite our lean frames, I'm thinking we need to up size. Due to us being in California, I think a California King bed would be suitable, no? ;)
It was due time to have an adult bedroom and finally be matching and relaxing.
Here is the before and after photo of our bedroom.
And more…(click to enlarge the images)
Quite the difference! For the longest time my night table was a rubbermaid bin that I still hadn't unpacked since moving here in February.
That all changed when I went shopping.
I bought some bed linens from the Steven Alan collection at West Elm and our new headboard is the Safavieh Axel from All Modern (and now costs $50 more?).  His night stand (the glass top one) is from Ikea, ages ago. I'm talking circa 2006 when I moved up to Ontario, and lived with a room mate I found on the Guelph University website. She took me to Ikea and there I bought that $20 "night table". It's so tiny. The new one (on my side) is from Overstock.
Pretty, right?
I applied on Bloggers Required website, to have a chance to review the Buckwheat Pillow by Hullo. Primarily because it intrigued me, and one cannot have enough pillows. I like to sleep like Princess and The Pea. The run down: We used to sleep with two huge 20″ velvety grey pillows from Ikea that acted like a headboard, and then I use two very fluffy malleable pillows, while my husband prefers the more firm pillow that barely makes a dent where his head would go.
As funny as it sounds, there's an adjustment period to getting used to this $79 pillow. I found it interesting that you can adjust the fill on the hulls in your pillow. And if you really hate it? There's a money back guarantee option.
Thinking the Buckwheat Pillow would dig into my face like other feather pillows do (then get passed off to the husband because I hate the pokeys), I was pleasantly surprised it didn't sneak out of the layers of cotton and dig into my face in the middle of the night.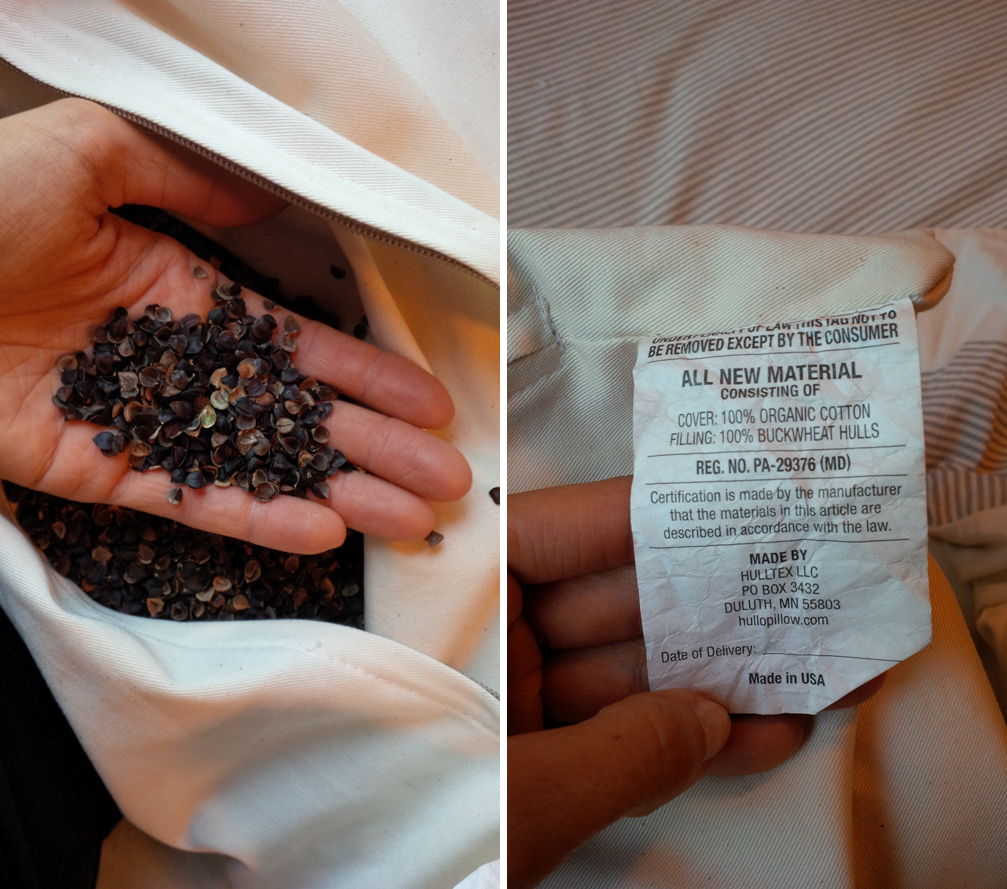 What else can you really say about a pillow? Reluctantly, I let my husband borrow it for a night and he decided to keep it. Fair enough, I wasn't liking the "relaxing noise" of the pillow myself, and prefer my fluffy pillows. Not that it entirely matters to me with a pillow, but the Buckwheat Pillows are organic. Here's a snippet from their site:
 Organic All-Natural Materials
From the 100% organic cotton twill case, to the carefully sourced and selected buckwheat hulls, we make our buckwheat pillows in the U.S.A. with the finest materials available. Our premium buckwheat hulls are grown and milled by American farmers. Buckwheat pillows contain no animal products for those interested in a vegan lifestyle.
My main issue with pillows I've had was freaking feathers sticking into my face and scaring the crap out of me. I've since forgo'ed buying feather pillows because of that.
I've been known to spend upwards of $60 for a single pillow, and I've since boycotted feather pillows because my main issue with them is that I woke up with feathers stuck into my face, arms and stomach. Painful.
Anyway, what do you think of our bedroom reveal?
Alfie seems to like it.
I have to say, the flowers were a complete prop and usually I keep them downstairs so I can smell them all day long. I thought they added to the photograph, so I added them in before I shot the after-photos.
How often do you wash your bed linens?
When is the last time you got a new pillow?
What are your favourite flowers?
Matching night stands, or no?
Do you like out bedroom setup now?