I didn't realize until lately how much of a purse person I was until I compiled all of the purses I owned. I've decided to do a little history on them and do mini reviews on each of them. Love the backdrop of the photos, these were taken on our balcony, the glass has this sea green tinge to it. Whether it's aged like old rustic bookcases or it's meant to be that way, I'm not sure. But I like it.

Nine West Yellow[Purchased in 2007] I remember exactly when I bought this purse. It was my first year living in Ontario and I was having Graphic Design interviews with companies. I didn't own a car at this point and after my interview I popped into the mall and headed to Winners. I saw this Nine West purse and immediately purchased it. See what was in my purse back in 2008!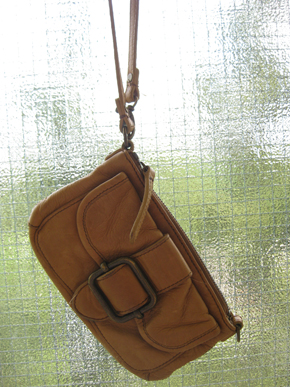 Banana Republic clutch [Purchased in 2008] I was shopping on Banana Republic's website without realizing it was located in the USA. I called the BR store in Toronto asking them to ship it to me. When it came, I didn't realize how small it was. But now it's one of my most favored purses/clutches that I own.
Nine West Red [Purchased in 2009] I bought this one at a place similar to Winners called Labels. See what was in my purse back in 2009! I rarely used this one, I felt it was a little too boring for me.
Danier Crossbody [Purchased in 2009] I knew I wanted something I could cart around with me like the Banana Republic clutch shown above, but didn't want it on my wrist all the time. So a small cross body to store a few cards, cash and a cell phone is perfect for this small bag.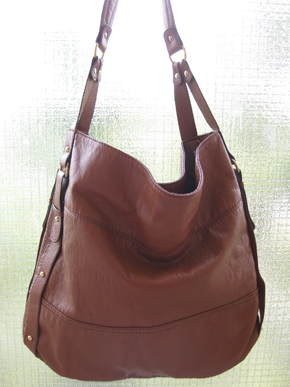 H&M Bucket bag [Purchased in 2011] This was my first purse that I picked up at H&M and was soon to be my carry-all for everything. It's pretty massive and things get lost in it. I use this on more during the winter now, as I don't mind if it gets beat up since it was only a $20 purse from H&M, so it's not real leather ;)
Furry Winners Bag [Purchased in 2011] I bought this on a whim when browsing Winners with my sister-in-law over Christmas Holidays last year. I don't know what possessed me to buy it. But I did, and I wore it for the entire 2011 winter. It was definitely a statement piece.
Christmas bag [received in 2011] My brother and sister-in-law either gave this one to me for Christmas or my birthday a year-ish ago. I've only used it a handful of times, I do like it but forget that I have it.
J Crew Bag Brompton Hobo [Purchased in 2011] Ah, my most expensive splurge on a purse. I picked up this beauty while I was down in California last summer for BlogHer11. It has a zippered compartment on the rear which the sales lady had me sold once she told me it stores the ipad 2 perfectly in the pouch. This was my go-to purse all last summer.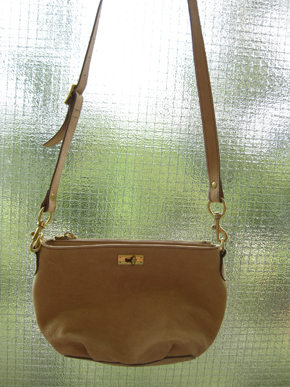 J Crew Bag Baby Brompton [Purchased in 2012] Would you look at that? A mini version of the Brompton shown above. This is made out of suede rather than the leather one I own. I bought this at the J.Crew store in Y0rkdale Mall while shopping this winter. I've only used it once, but I need to remember that my dark blue jeans are a no-no when wearing this. Jeans stain suede! :(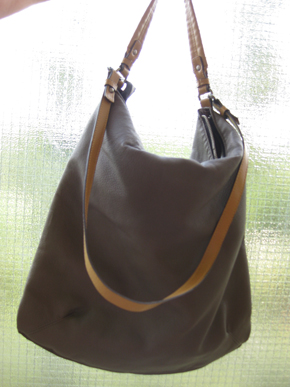 Zara purse [Purchased in 2012] Love this as my everyday purse if I don't care what I'm doing. This purse was purchased in the spring of this year. It's already falling apart at the straps. I need to go get this fixed. Rather annoying don't you think?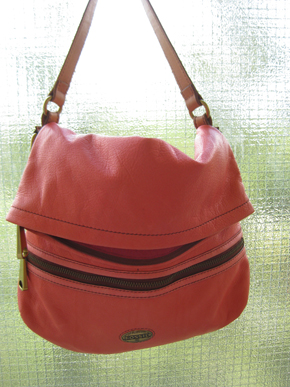 Fossil Purse [Received in 2012] AH! My new favorite purse! Finally another pop of color to add to my collection of neutrals and browns. I use this purse daily, or if I want to switch it out I use the grey Zara one above. But those are my two purses I use regularly. I've blogged about my Fossil, and also showed you what's inside my purse!
Are you a purse girl? How many bags/purses do you own?