Remember just a few weeks ago I did a blog post on my co-workers Fossil haul, where she purchased two gorgeous watches? It's now my turn!
I was debating between three watches, and when I went into my local Fossil store I had a difficult time choosing between the last two.
I'm so excited that we now have a Fossil store in the local mall. The girls working there definitely know my co-worker and I, as we were inside the store together at least once a week over the month of May. I really did love the rose gold one on the far right. I may end up going back for it, since Fossil watches are inexpensive and are really so versatile, plus they last! It's not like the watches are $400 and I need to make a huge investment. The watches range from anywhere between $95-$125. They look great on your arm, plus you don't have to worry about blowing your budget with these pieces.
What one did I end up going for? The brown stainless steel stella shown in the middle.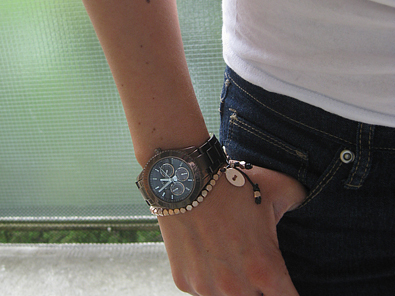 My watch arrived the day that I left for Newfoundland.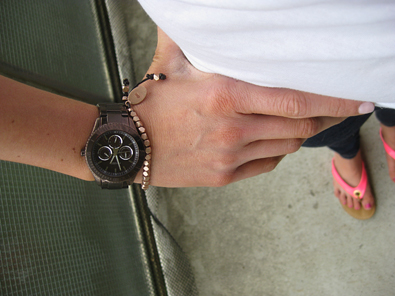 Isn't the color a beauty? Love the chocolate brown stainless steel.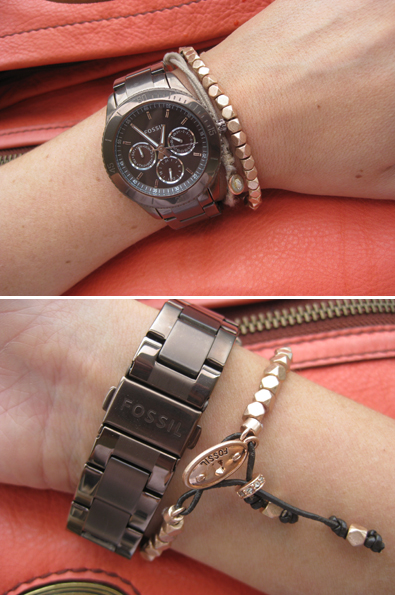 During my lunch break I rushed over to the Fossil store and had my watch sized to my wrist and purchased this rose gold bracelet to go with it. Just tell me how amazing it looks on me. Tell me! :)Â  Whenever I glance at it, I catch myself staring at it. Is that weird? It's like I'm staring at an engagement ring on my finger. But it's a watch. Watch lovers will agree with me, right? I hope so…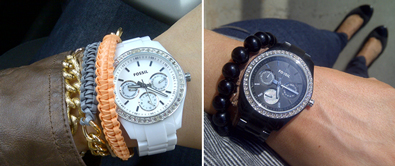 Shown above are my other Fossil Stella's. You'll notice they have crystals around the edge of the face, which is unfortunate for a clumsy person like myself. I always manage to drop my watches, or bang them against door frames, thus the white one which is the oldest (purchased in 2009) — has three crystals missing. When I went into the Fossil store, I was telling the girls working there that I had some crystals fall out, and she handed me a form to fill out.
I can mail my form and watch away to the Fossil office in Toronto and they can replace the missing crystals, for a price of course. But for me, who wears a watch on almost a daily basis, I think it's great that they offer that.
Otherwise, I was thinking of filling in my dark empty spots with white out so it wouldn't be that noticeable. Talk about ghetto fixing jobs by yours truly, hey?!
I spoke with a marketing specialist at Fossil in Toronto over the telephone about the up and coming trends for Fall 2012, and while I'm still partial to the Boyfriend style watches, she mentioned that the new trends we're going to be seeing for the fall are slimmer leather watch straps with smaller faces. Almost a retro looking watch, like the Flight collection on Fossil's site. I'm not the biggest fan of the collection myself since I love big chunky watches on my pinner wrists. But I know people who would wear them. Would you?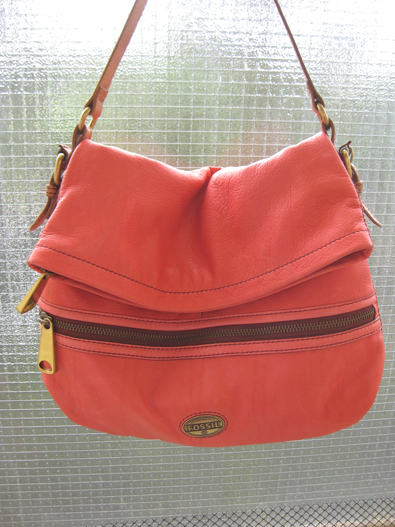 Fossil just came out with a new handbag line called the Explorer.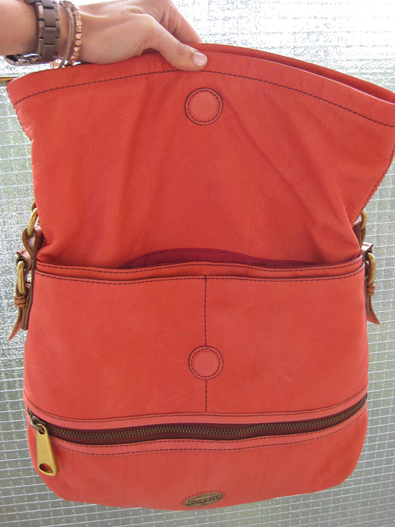 I was deciding between the large explorer tote, the middle sized explorer flap, or the small explorer crossbody. So I got the best of both worlds. Smack dab in the middle, the explorer flap in pink.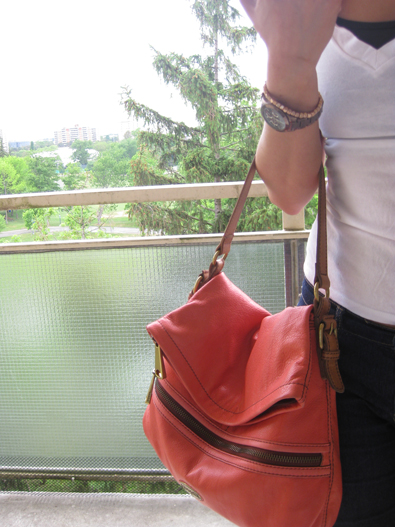 I really need to be careful with this type of leather. I wore some Forever 21 cheap jeans with my Fossil bag and the dye from the jeans stained my purse a little. Silly rookie mistake on my part. I knew it would happen. It'll never happen again thank you very much. The purse was a huge hit with my family and friends when I brought it down to Newfoundland with me. I was hesitant on even showing people it because I didn't want it to get scuffed or dirty. But then clearly remembered I messed it up a little when I wore it with my stupid blue jeans.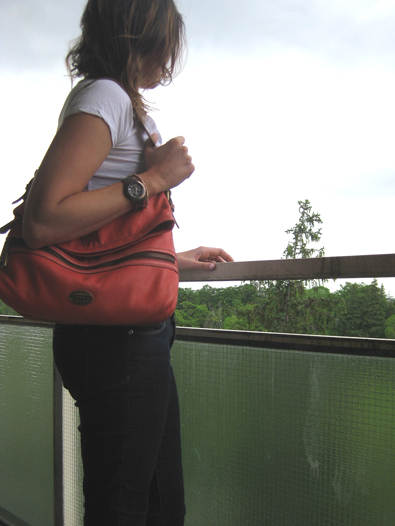 I always love it when people show what they carry around with them day-to-day inside their purses. So, I've decided that rather than just show you the purse hanging off my arm, or just modeling it for the size. I also decided to show you what I carry inside my purse. That's always fun for the nosy people (like myself) right? Stay tuned for my next blog post tomorrow: Whats In My Purse? But if you'd like a sneak peek of it, click here :)