My co-worker and I are just obsessed with Fossil watches.
This is L McMomsie (the blonde), she has been 'featured' on this blog many times before.
As I posted on Friday evening I have two Stella watches, one in black the other in white.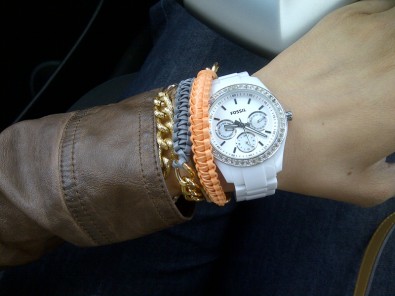 Just last week we were both in our local Fossil store in the mall and were trying on watches for me to get. (Still not sure when I'll get mine, but I do have a few picked out. Here are my top three):
All Stella's, just different looks. Which one do you think I should go for?
My co-worker couldn't stop thinking about one watch when we went in last week, so on Friday we both went in once again to get her some new watches! Yes, plural!
When you buy a Fossil watch they come with adorable tins for you to pick out.
Isn't she just stylish? She had some great looking grey heels on too, I loved her outfit that day.
One thing which was totally missed by both the sales people and my co-worker, was getting the watch re-sized. I even ended up asking the sales girl when we were in there the first time, if they offer it no charge. But unfortunately my co-worker and I forgot, and it wasn't suggested by the sales associates either. I think everyone was equally enthused by our excitement in the store. I had L try on her watches, and model them for me.
She now owns THREE Fossil watches. She's ahead of me! I only have 2 and I want my third.
I'm definitely not going to go for a "diamond like" rim around my watch, since my white one which was purchased in 2009 or 2010, I forget, lost a few of its studs. So it doesn't look the greatest!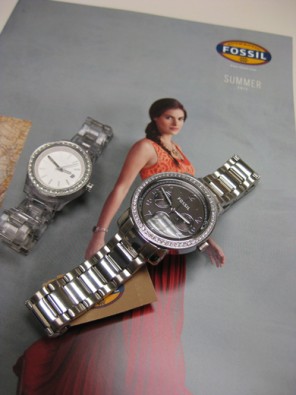 Check out the changes that Fossil has been through over the past few years. L bought her old one a few years ago (left) and the new one is so much bigger. Of course Fossil has other sizes available, but L and I both like the over sized boyfriend watches. I think they're so sleek!
Wish this was my haul, and not L's. Ah well, my turn will come soon.
Don't forget to enter my birthday giveaway! Ends May 13: