Well, I've done it now! I've managed to get another co-worker hooked on the Fossil brand! Score.
If you're new to my blog, or just missed the posts. I've blogged a few times about my Fossil items. You can see my brand new Fossil watch & purse here. My co-worker L, purchased two Fossil watches shortly after, and now Laura my other co-worker, bought a Fossil purse!
Since Laura is a reader of the blog, I asked her if she'd like to be featured this week. She happily accepted and posed with her new beaut for some photos.
Laura had been looking for a new purse for a few months but the stores she went into didn't have the best quality of purses. Laura spotted mine when I received it in May, and has been asking if she could have it ever since. (Um. No.) She and her daughter were shopping in the local mall and randomly decided to just go on into the Fossil store. Knowing that Fossil bags were pricey, once she spotted the Explorer Tote and was indecisive as to whether or not to make the large purchase. Her daughter finally convinced her that she needs to spend some money on herself from time to time!
Good for her I say, she deserves to spend a little money on herself. Each morning, without fail I come into work, I pop by Laura's desk and have a quick chat with her. Immediately I knew something was up, since she had this big grin on her face. She pointed to the floor where her purse was laying. When I realized it was a Fossil bag I think I gasped, then we both started laughing and I started touching and idolizing this foxy brown soft leather bag.
Laura ended up buying the Explorer Tote. It's the larger version of my medium sized, Explorer Flap. The girls at the local store where she purchased it, said it's a new color for Fall and Laura was one of the first people to buy it. That gal — what a fashionista! I was eying up her purse all day and kind of wanted to borrow it ;)
One thing about Fossil merchandise, is that they brand everything with keys, which I think is a great little subtle touch to branding their pieces.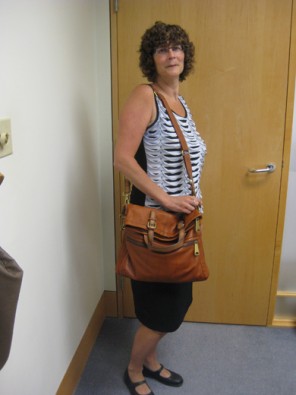 Looks great on her right? Here's Laura sporting her knockout purse of hers. Literally, she could knock someone out with it. Her bag was already filled to the brim and about 7lbs heavy, ha ha!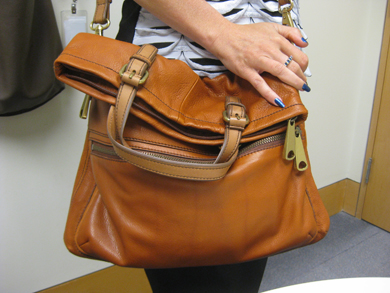 Even though Laura's Explorer Tote is the larger version of my Explorer Flap, there still is a few slight differences in our bags!
Are you a fan of Fossil purses?
Are you a shoe girl, purse girl, or clothing kind of girl?
As you know, I'm a huge fan of Fossil products. Between their purses, watches and bracelets. I think I need to invest some stocks in Fossil ;)
I'm a purse and a shoe girl.