Ashley said it well on her blog, earlier yesterday: For the Love of CrossFit. She always says what I'm thinking in my head, about CrossFit but rarely write about. I love her blog.
Last week I took a "break" from CrossFit, and now this week I've been attending the local YMCA with my co-worker doing Yoga (really fun, seriously) and Muscle Pump (no thanks). I skipped out on going to the YMCA last night to go to CrossFit again, because I wanted to sweat. This was our SWOD/DWOD: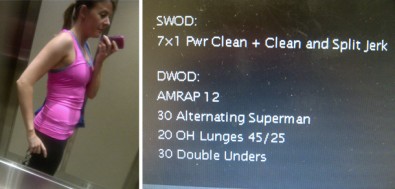 For the SWOD I ended up doing a total of 75lbs, and when I went to 80lbs I dropped the weight on the ground since I couldn't lift it at all lol.
AMRAP stands for "As Many Rounds As Possible" in 12 minutes. I managed to get 3 rounds in, while everyone else got 5+. I'm very weak in the shoulders and found that lifting a 25lb plate over head while doing lunges really slowed me down. Plus, I suck at skipping. I got some pretty gnarly bruises from the 90 regular skips (since I can't do double unders we have to do 3x the amount of skips). Who gets bruised elbows from skipping? Seriously. So weird.
When my co-worker saw my bruises she called me a maniac. Which then reminded her of her favorite movie Tommy Boy, and thought I may have looked like him while I was skipping. I don't think I've laughed so hard seeing that scene from the movie. Just watch…
After my CrossFit workout last night, I ran with my co-worker around town! Awesome way to end the evening. 6km with some sprints at the very end. My favorite! My legs honestly felt like they were made of lead by the end. SO heavy. But we did it! I don't think I've sweat in places I've sweated before. It was interesting and maybe traumatizing.

P.S. I totally found a random photo of me the other day.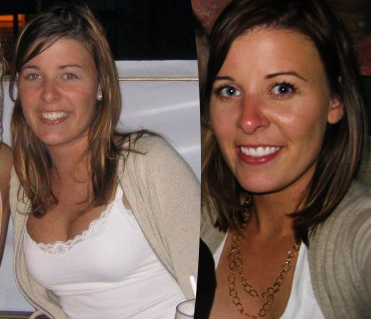 These two photos are almost 10 years apart from each other. Looks like I'm going backwards in age ;) Either that, or I'm thanking that my Boyfriend asked me to stop in tanning beds!
Off I go to Yoga again! I don't think I've worked out this much in months. 4x already this week!