H A P P YÂ  B I R T H D A YÂ  T OÂ  M E ! !
H A P P YÂ  B I R T H D A YÂ  T OÂ  M E ! !
H A P P YÂ  B I R T H D A YÂ  T OÂ  M E ! !
Omgomg it's my birthday. It's finally here!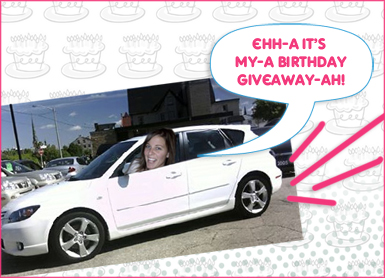 I think my birthday and Christmas are my favorite times of the year. Probably because I get presents on both of those days. But you know what? Today isn't going to be just about me. Sure it's my Birthday but I as I stated a few weeks ago, I wanted to share my birthday love with all of you guys out there!
I've been busy the past month, talking with my favorite companies and brands out there and they've donated so many wonderful things for you guys. I am so very appreciative of my loyal readers, people who leave sweet comments and of course, my lurker friends.
So, I'm giving back today. I'm giving you all a chance to win something! Not to each and every one of you because I have only a limited amount of things to give! But you know how it goes. Let's get right into it because hello that is the most fun part of this post, right?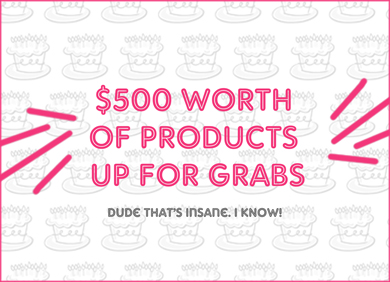 Look at all the goodies you can choose from!
(Click image to enlarge)
Prize rundown:
Burt's Bees — Sensitive Skin products:

Facial Cleanser

,

Eye Cream

,

Daily Moisturizer

. Canada Only.


Rubbermaid Glass containers. Two sets, six containers in total.

2 winners will receive a Glymm box for June 2012 Canada Only. (Items shown aren't necessarily the items you will be receiving).
Philosophy —

Birthday Girl gift set

.

Kerastase Cristalline shampoo, conditioner and hair serum.

Marcelle $50 basket with

Xtension Plus Mascara

,

Essentials Eye Make-up Remover Cloths

,

Renforcils Waterproof Eye Make-Up Remover

,

Essentials Soothing Eye Make-Up Remover Gel

,

Essentials Gentle Make-Up Remover for Sensitive Eyes

, 

Essentials Eye Make-Up Remover Lotion – Oil Free

!

3 Make Up For Ever Lip Sticks and 1 Smoky Lash mascara.

Leopard print two tone long scarf (

See my review about it here

).
Enter away in the form below! I'll leave the contest open until Sunday, May 13 and will do the draw that following Monday. As you may realize, there are 8 prizes but there will be 9 winners. The first winner will have first pick of what they win, second person has their pick, and so on.

I will give 24 hours for the winner to get back to me with their mailing address. Otherwise I will do a re-draw.