One quick thing before I get into my recap from last Friday night. I'm not getting e-mails lately, when the comments come in, so I apologize if you don't get an e-mail reply when I comment underneath your comment! :(
Remember on Thursday and Friday of last week I said I'd be hanging out with Serena Williams? I was SO CLOSE to her at the Tennis match! Thanks to the tickets that Sport Chek supplied for me and my Boyfriend.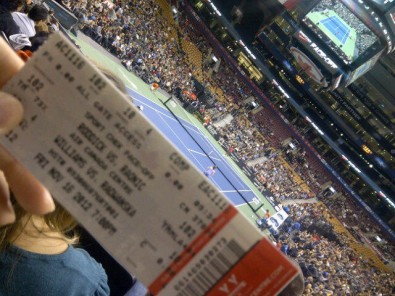 It was such a fun event, and I even got to sit next to one of my blog-friends Robyn!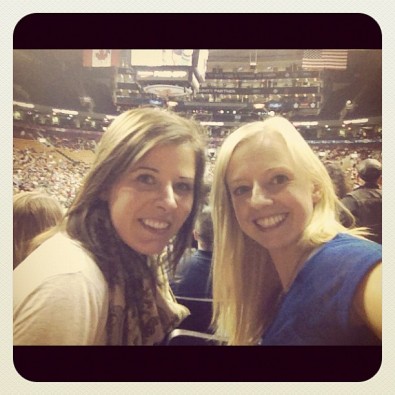 Even though I knew nothing about Tennis, I still enjoyed it. It was aired live on TSN and definitely wasn't as quiet as I would've thought it would be in watching a tennis match, in the Air Canada Centre.
We arrived about a half hour late, which wasn't an issue since the beginning was just a few Canadian celebrities playing tennis for fun, against the elite players. Brad Smith, from The Bachelor Canada was there, along with Adrian Grenier, George Stroumboulopoulos, and Mark Cohon.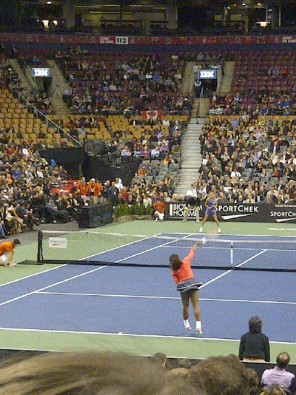 Caught Serena Williams mid-serve.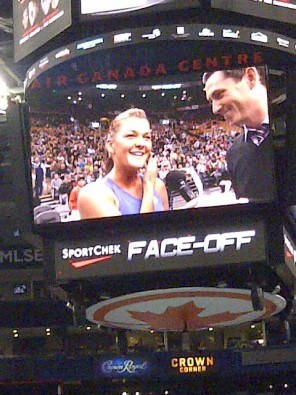 Aga Radwanska ended up winning the match. My Boyfriend told me she's ranked 13th in the world!
The players made it so fun and entertaining to watch with their antics as it was a fun exhibition game, so it wasn't as serious. The announcer made a few suggestions to Andy Roddick and Milos Raonic when they were serving the ball.  Milos was told to make fun of Andy's serve, I think the funniest part was when Andy stuffed towels down the back of his shorts to imitate Serena Williams.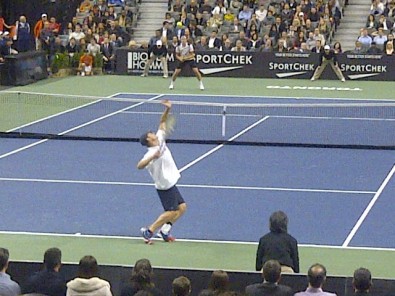 A lot of the girls were screaming out to Andy, to marry them. It was pretty funny, gotta say though — he is pretty hunky.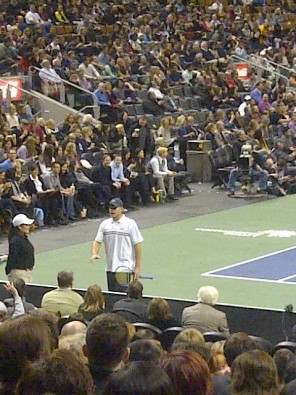 Here he is talking to the audience, no doubt saying something to make us all laugh.
That's how close we were to the Tennis court. Ahhh! Thanks again to Sport Chek for the amazing opportunity to attend such a fun event!