At lunch today I had a strange craving for some tea and … bacon. I don't buy bacon ever, and I drink tea about twice a year as an indulgence since I sweeten it with 4 or 5 sugars (I know). I gave into my craving for one of the two, and headed off to Tim Hortons. Again, very rare — I used to work there for three months a while back, and didn't like any of the things they had to offer so I never went in to buy anything. I bought myself a chicken salad sandwich which hit the spot, and half a dozen cookies for my co-workers. I had a chocolate chunk/pecan/caramel cookie which I'm sure had trans-fat in there, and it definitely gave me gut rot. A good reminder why I never go to that coffee shop. Anyway, I had a cup of homemade tea at work to go with it.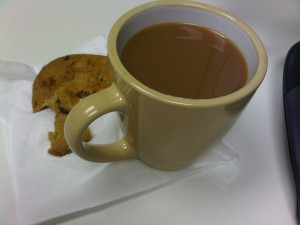 Mmm mmm…can you see the sugar rimmed mug? Ha!!

I'm not exactly craving bacon anymore, but ever since I got back from Christmas vacation … obviously eon's ago, I have been wanting to eat some Chinese food. I think I need to give in.

Have you had any weird cravings lately?