I did a Glymm points haul a few months back (see here), and I've since accumulated a bunch more points to buy some more goodies for myself! I placed this order back in mid-September, and a few weeks passed by and I didn't receive any sort of e-mail notifying me that it was getting shipped out. I started to feel a bit nervous, so I e-mailed and tweeted Glymm asking them where my parcel was. I didn't get a response back until I sent a second load of e-mails/tweets and finally they came back apologizing, saying one or two more items were not in stock.
I would've appreciated it if I was kept in the loop, considering I did pay the taxes (using your points doesn't cover taxes), and was waiting on it.
Either way, it came about 5 weeks after I had placed the order. Quite long if you ask me, so take that into consideration if you plan on buying from the Glymm store.
Patience is a virtue. Thanks for the little freebie, Glymm!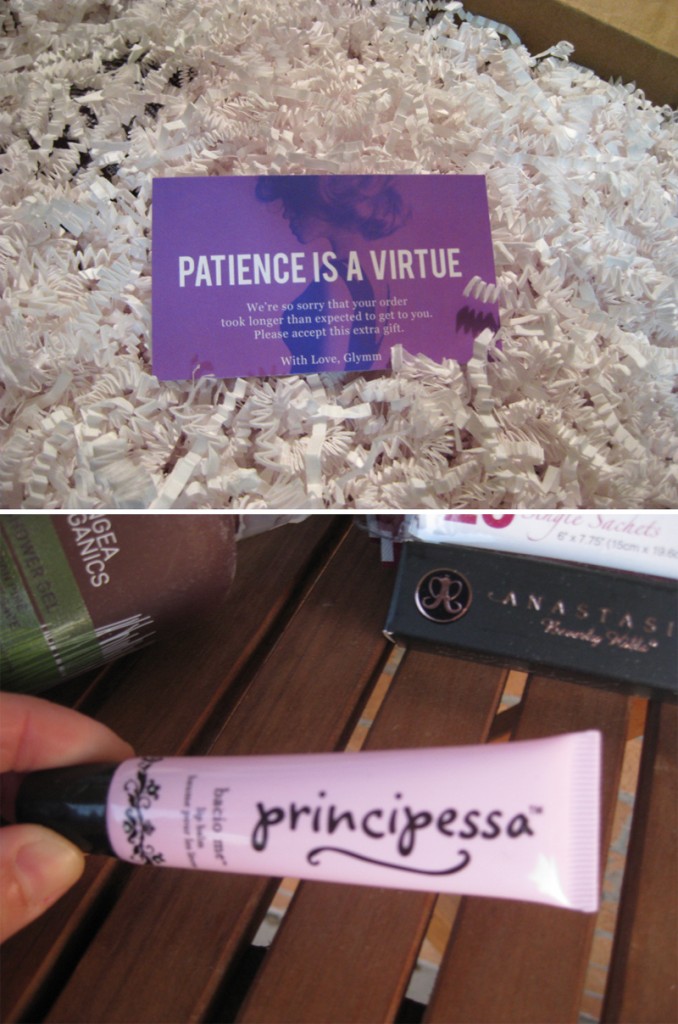 All my goodies packed safely in the crinkled paper.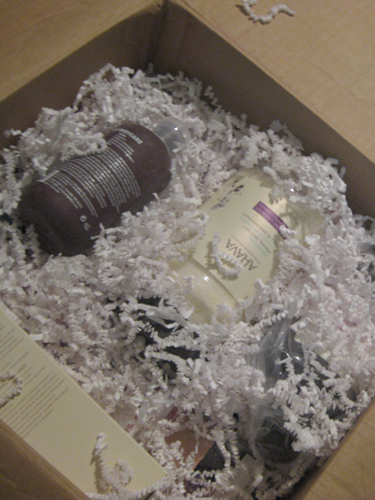 Ba da bing, ba da boom! Holy cow. Lots of points spent on this girl!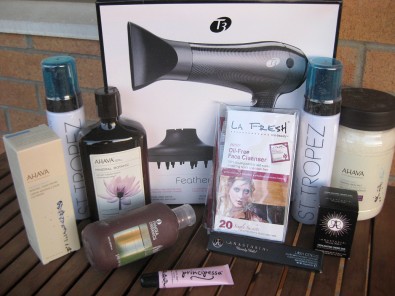 I'm going to try and name things off left-right.
Ahava hand lotion (an amazing one at that)
St. Tropez bronzing mousse (2)
Ahava mineral botanic velvet cream body wash
Pangea Organics shower gel in Canadian Pine with White Sage
T3 hair dryer!
Principessa lip balm (this was my "apology" freebie)
L.A. Fresh makeup wipes
Anastasia Lash Genius (a waterproof top coat to go on your mascara!!!!)
Anastasia Highlighting Creme Duo (which was swatched. So gross)
Ahava bath salts (part of my Mom's Christmas present lol)
If you subscribe to Glymm, have you ever redeemed your points? Remember Glymm points expire after 1 year. So keep that in mind!
October was my last Glymm bag, I didn't do a video on it because I was quite busy and frankly just wasn't in the mood to film one.
Buy your Glymm bag for $12/month.
Want to know what subscription box I like the best? Go see my comparison post! Topbox vs. Luxe Box vs. Glossybox vs Glymm!