Now that I've unsubscribed from most of the monthly subscription boxes, I don't feel as overwhelmed and I can focus on doing monthly features on the products I've received from my favorite companies!
Here is my August Glymm box. It came in a little black faux patent leather bag this time, so cute. As always, click the images to enlarge them…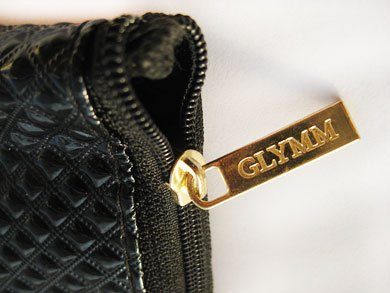 Inside:
Close ups:
Details:
CoccoLily nail polish (We received the Full Size! 15ml/$12.00)
These polishes come in 5 different shades of pink! I'm not sure what color I received, but it's pretty as you can see in the swatches above.  
Vitamin & Sea
Cruelty Free mineral clay mask (Full Size: 210 ml / $62.00)
The face mask is made from clay directly from the Dead Sea, and will tingle when you apply it, as it softly exfoliates the skin. The organic mask is enriched with vitamins B1, B2, C, A, D and E from sweet almond oil.
Sample usage: Up to 3 uses
Bentaberry (Full size: 30ml/$22.00)
A moisturizing face cream for men or women. It is made from 100% natural active ingredients: burdock, jasmine, mandarin, blueberry, white dead-nettle and zinc pidolate. (What the heck are those last two?) Apparently it will/can diminish the redness and blemishes on your face.
Sample usage: Up to 7 uses (not so sure about that!)
Mai Couture (Full Size: 50 Sheets / $19-$26)
This is a blush paper with two pieces of paper in the package. Add color to the apples of your cheeks, just by rubbing the paper on your cheeks for an instant lift!
Sample usage: Up to 4 uses (It says on the back of the packaging use one sheet for both cheeks. So basically two uses, not four)
Naked Princess (Full Size: 2.96 ml / $26.00)
Naked Shine Luscious Lip Gloss
It's the tiniest bottle of lip gloss ever, but it's a really nice color. The scent of it reminds me of a MAC lipgloss I had a few years ago.  The consistency of this gloss is non-tacky and doesn't stick to your lips. The color is great. The gloss is infused with Shea Butter, Sweet Almond Oil, Moroccan Vanilla, & Antioxidants.
Sample usage: Up to 14 uses
Sign up for Glymm for $10./month (reoccurring members) or $12/month for new members.
This is not a sponsored blog post, I am not affiliated with Glymm.
Also! Don't forget about entering in the contest in the blog post below.