My buddy Stephanie and I decided to get together last Saturday morning and spend a little quality time together!!
We met down at the local market and bought some yummy fresh produce. I made Stephanie take photos with my camera this day, because I felt awkward doing it. Look at all those fun colors. I want to dive right in, full body and eat all those colorful foods.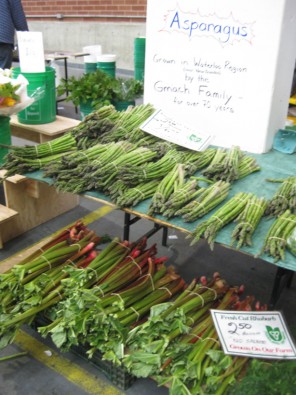 I LOVE asparagus. The thinner stalks taste way better than the thicker ones. Stephanie says I have a keen eye for asparagus ;)
Pretty colorful flowers!
Stephanie bought some for me herself.
Oh get this!! We ran into a guy who was selling tomatoes and asked us to try the last slice. For some reason, I stopped and made a "eughhh" type of face. I'm telling you guys this because it makes for a good blog post story. Trust me. He thought I didn't like tomatoes. I just don't like them on their own. It's not like I'm going to chomp into it like an apple. I told the vendor "Well. If you make me a sandwich, I'll eat it!" He was honest to my lord, getting his bread and meat out, ready to make me a sandwich so I could try out the tomato. I should've taken photos of it all but I really didn't need tomatoes this week, so I had to apologize, and walk away. Haha!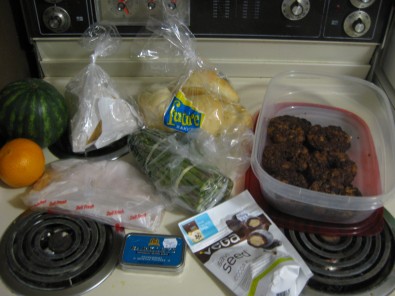 We spent about an hour at the market and I stocked up on some goodies for the week (shown above) and then went to Thrive Juice Bar for lunch!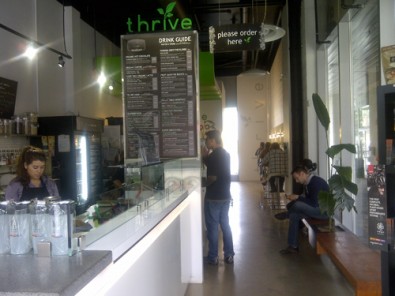 I've been dying to try out this spot.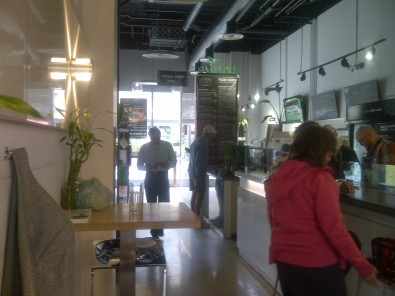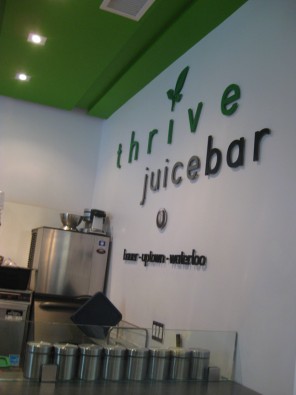 I absolutely fell in love with the place. I love how everything is so clean and classic looking, but so futuristic at the same time.
I ended up getting the chocolate avocado ganache smoothie, with the big green sandwich.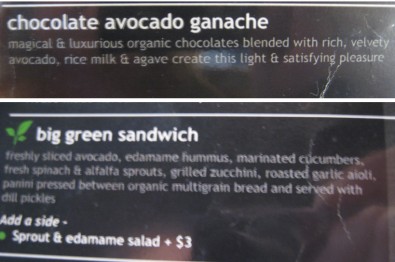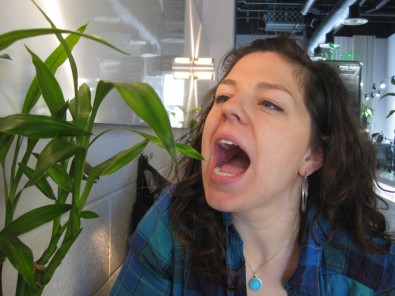 We had some time to kill waiting for our sandwiches to be made, so Stephanie decided to get her daily green intake and eat some bamboo leaves while waiting.
See? Happy belly = Happy people!
The smoothie was out of this world. It had little chocolate bits in my drink, and was a nice rich drink. The sandwich was just as amazing as I thought it was going to be. The onyl reason I chose the big green sandwich is because Stephanie brought it to chaw on, when we met up once before and it looked tremendous.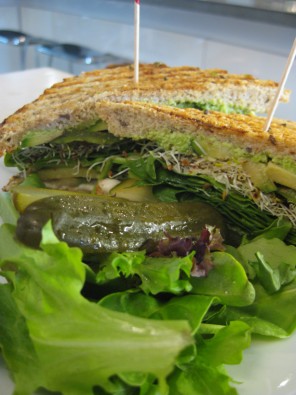 Doesn't it look great?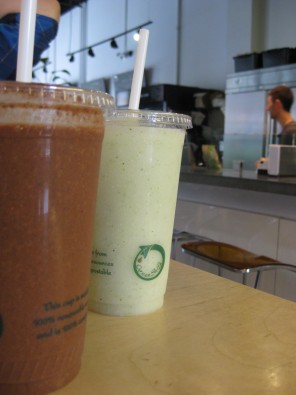 I forget what Stephanie ordered for her smoothie, but she also ordered the big green sandwich on gluten free bread.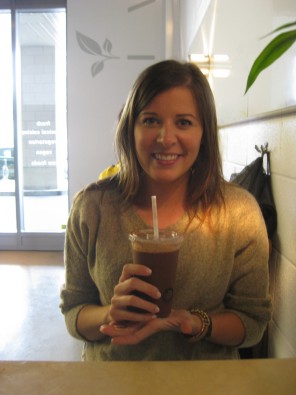 Chocolate smoothies make me very happy.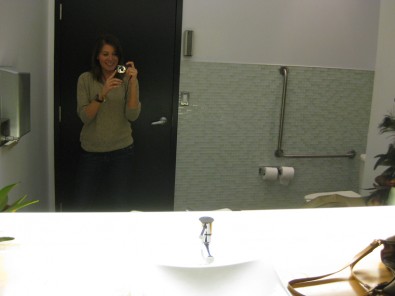 So do pretty bathrooms.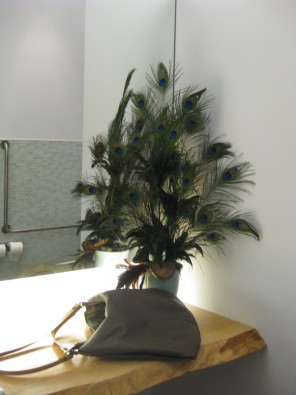 Hey, I can't help it. It even had peacock feathers! How could I not take photos. If you're wondering why I'm using my grey Zara purse instead of my new love (this Fossil purse) it's because it was raining that day and I didn't want my pink leather purse to get weird and wet.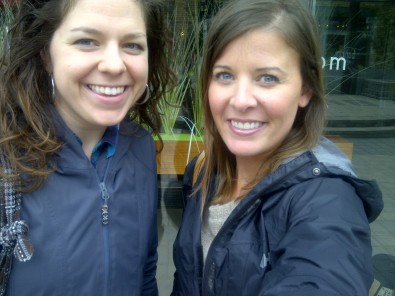 We left with our bellies full, and not bloated. It was a pleasant meal, but it did cost a hefty penny. My meal came to about $16~
I will definitely be back though. The people working there were so friendly and helpful. I kind of want to make a monthly visit to Thrive. How about it Stephanie? :)
I didn't want to end the day there just yet. Stephanie is super fun to hang out with and always has me laughing, so we drove to a health food store (and of course, took more photos outside!)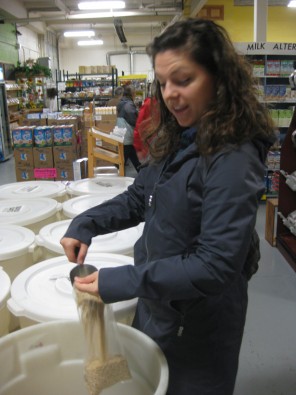 Stephanie got some brown rice and showed me exactly how to pour the rice into this plastic bag. Look at the size of these buckets! They were filled with something different.
I decided to chomp down on this chocolate bar while waiting. But found out after all it was a shampoo bottle. It definitely looked like chocolate, let me tell you.
I picked up some treats for myself while at the store. The savi seed covered in chocolate kind of resembles peanuts. But different. Crunchier, not as flavorful but still a good indulgence.
That my friends, concludes the fun adventure day I had with Stephanie!

Hope you have a good weekend — what are all your plans?