What's on your grocery list for the week?
I usually procrastinate getting groceries and have to end up stopping into the supermarket immediately after I finish a CrossFit WOD. Sweaty mess. Slow walking due to sore muscles = lots of time to browse. So this is what one of my shopping trips usually looks like:
I just noticed there is a lot of greenery in the picture.
Up close: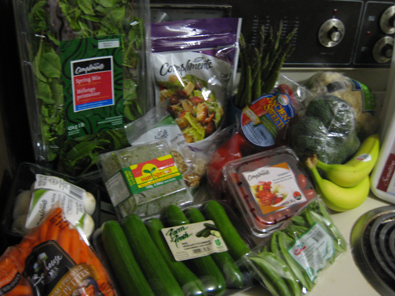 Spring mix salad kit // Croutons // Asparagus // Cauliflower // Broccoli // Bananas // Red peppers // Boneless Skinless Chicken breasts // Cherry tomatoes // Snap peas (or whatever they're called – the sweet yummy ones) //Â  Cucumbers // Alfalfa sprouts // Pine Nuts // Mushrooms // Carrots // Milk (not shown) // Delicio chicken pizza (not shown).
I usually pick up more fruits and veggies but I had enough in the fridge already (grapes, watermelon, & berries). I picked up alfalfa sprouts for the very first time. I first had them in my sandwich when I went with Stephanie to Thrive the other weekend. I liked them, and apparently they're better for you than lettuce. Crazy. I could barely taste them in my salad and wrap. I may start taking photos on the stereo stand rather than the ugly dated stove top next time.
Dig in!
What are on your must have list for your grocery shopping trip?