Failing on the outfits of the work week. Wednesday I was feeling so terrible with my head cold that it slipped my mind to take an outfit of the day photo on my cell. Then yesterday I was at home sick. My phone has never rang so much in its entire life as it did yesterday. Random car dealerships calling, a FedEx package who didn't have my buzzer number and left and called to reschedule a delivery, and then a few other weird calls. Like what the hey?
I hope I'm feeling better tomorrow. During the day time I'm half-fine, but at night I cough up a lung and it keeps me awake. Because tomorrow I was hoping to head into Toronto for the day. I'll also get to hang out with Leanne for a bit too.
I posted a lot of giveaways on my blog this week. Remember to click the "holiday gift guide" red banner on the right hand side to enter them all. Especially this one below!
You have just a few hours left to enter the Glitz and Glam gift set from Make Up For Ever. One of you will get to win this amazing red lipstick, a mascara and eyeliner. Enter to win it.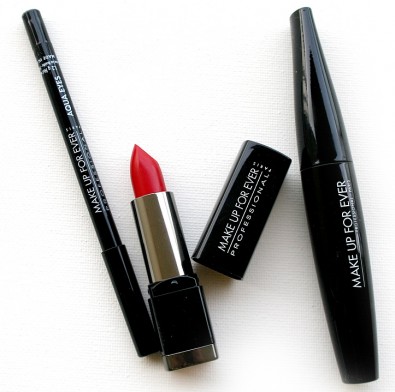 What are your plans this weekend?