My "OOTWW" Outfit of the work week features my super fun assistant Patrick! Patrick is working with me for the summer here at work from a local University. He's on twitter too, so follow him! I'm trying to get him to write some male fashion blog posts for spiffykerms. He's a fantastic writer for us here at work, and I'm sure he'll do just as an amazing job writing blog posts for me. Muhaha…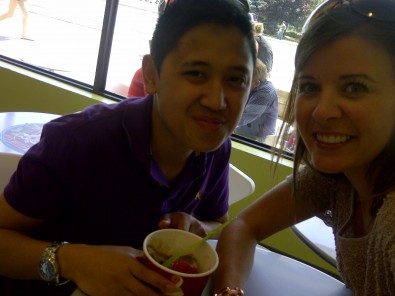 We went to Menchie's yesterday during lunch – a frozen yogurt place that I blogged about a few weeks ago. Isn't he adorable? My Boss and I always just "awww" at him lol. I'm sure he loves it.
His Wednesday's OOTD consists of:
Shirt: Gap
Tie: H&M
Pants: Gap
Shoes: Payless
Eyeglasses: Lacoste
Watch: ???
Onto my OOTWW: