So I (we?) have a co-op student for the summer. He's super helpful during our busy time at work, implementing new things that I probably shouldn't discuss on my blog. Meet Patrick! Today I walked into his office and he and I randomly decided to go on a drive during lunch. He forgot his at home so since he lives super close to my own apartment, I thought I'd just drive him to get his lunch.
When we were driving up on one of the main streets I noticed that we now have a Menchie's frozen yogurt place!!!!! . . .  !!!!!! yes it deserves that many exclamation marks. I've seen so many bloggers write about these frozen yogurt places before, I've never been in one! So fun. Patrick and I had to make a pit stop in there and grab a snack. Neither of us had been inside before, and since it's quite new the girl at the cashier explained to us how it worked.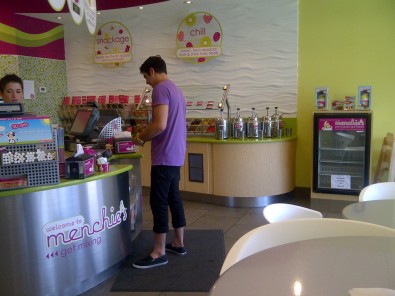 There are a variety of flavors from plain ol' vanilla and chocolate to coffee, watermelon tart, peanut butter and even cookies n' cream. They allowed us to self-serve our own samples of any of the frozen yogurt and even toppings. Oh I was so excited.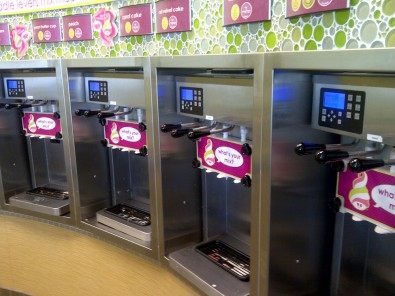 You'll notice that there are three levers per 2 flavors. The chocolate and vanilla are on either side, and in the middle is a mix of the two! Brilliant. I went for that.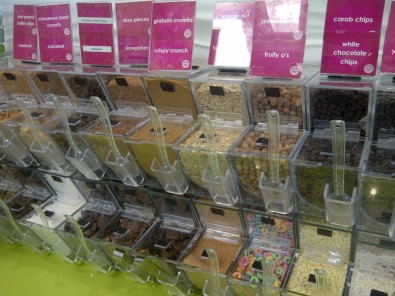 Sugary/chocolate toppings.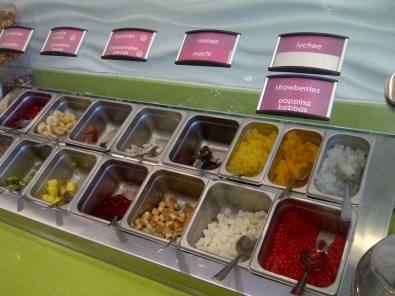 Fruity toppings.
My brain is confused! So many toppings, I could hardly choose what to get. I mean, cereal were even options as well!
(left: Patrick's fro-yo // right: mine!)
Finally I decided on what to put with my fro-yo. I went with kiwi, strawberries, cherries, skor bar bits, rainbow sprinkles, caramel sauce and those pink balls on the bottom of my photo are called 'popping bobbas'. They were great. But when I first tried them in the sampler, I couldn't get my teeth to chomp down on them. They were sliding all around my mouth. Is that weird? Sorry.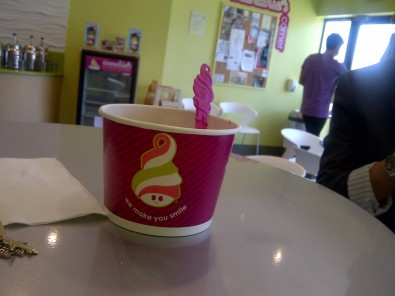 The place was so colorful inside. It was a fun vibe for sure, with photos of celebrities who were inside previous Menchie's around the world.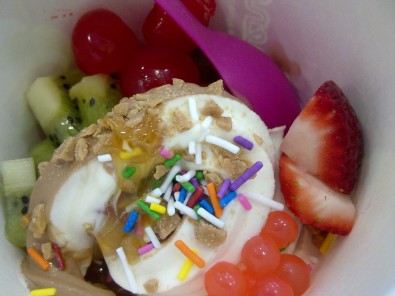 Well, time to dig in. Mmm. The kiwi was surprisingly good in my frozen yogurt.
Oh, and the spoons? The spoons are to die for. Soft but hard plastic, no hard edges around the spoon part to cut your mouth. I sound like a spoon-pro. Get your mind out of the gutter. I even kept mine to have at home, heh.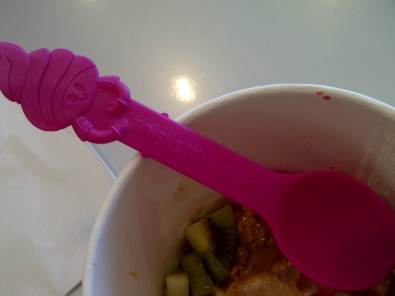 Super cute, right? I'll definitely be back.
Are you more of an ice cream fan of frozen yogurt?
p.s. I feel like everyone and their BFF is pregnant lately. Which isn't a complaint of mine. It's probably my age bracket, right? Anyway, they've all been talking about listening to their babies at home with their very own fetal doppler. Neat hey? Man, technology has come a long way.