I love it when things are available for an exclusive amount of time, because everyone can't get it. Then I feel all important that I have something "exclusive".
But then again. I think of it, and I'm semi-sad that something can only be available for a limited amount of time. So I can't say it will be a holy-grail product, or that you can get it at any time. Because for this set, you cannot. You need to bust your butt to Sephora and buy it now. That is, if you like make up.
The grass is always greener on the other side, as they say. Right?
For instance; The Seen and Be Seen kit is a limited edition makeup kit that will only be available at Sephora or online at Anastasia.net for a few more weeks. Plus, one of the main reasons you should (well, not should per-say. But if you'd like to, then do it) purchase the kit is because of the great price. It's an $80 value for a $57 ($44 USD) price tag. The most perffff opportunity to give Anastasia products a try. In fact, I've become quite familiar with Anastasia products. I use their Lash Genius on a daily basis to prevent mascara fall out at the end of the day. It works great and it comes off well with just my finger tips and a bit of my Philosophy facial cleanser.  I've also received previous Anastasia lip products in my beauty subscription boxes. I think Glymm gave them out a few months back with some clear brow gel.
Anastasia's See and Be Seen kit*
Anastasia's See and Be Seen kit*
I loved the retro packaging they used to promote this kit!
Who remembers these personal slide show things from when they were a kid!? It brought back so many early childhood memories. I loved it!
There's four great products. I think my favorite has to be the HydraFull glosses.
Everything came packaged up with Anastasia's logo over it. Nice branding on their part.
Again. Limited edition colors, not available anywhere except the Seen and Be Seen Kit.
You can see on my hand how opaque the lip glosses are, when swatched. Click to enlarge the image above. The applicator of the lip glosses aren't my favorite as they're a plastic wand and not a brush or a sponge tip. But none the less I'll work with it, and they've got a nice finish and below you can see them each on my lips.
HOLY. OPAQUE. I'm telling ya.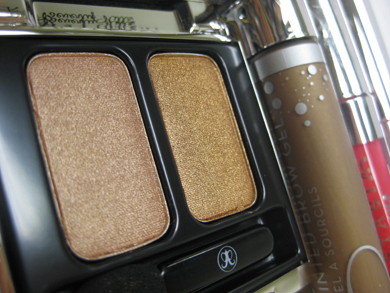 Anastasia Beverly Hills eye shadows.
The  gorgeous eyeshadow duo with soft pink and golden hues. I'm a huge fan of naturals. Naturals are the easiest to wear for sure.
I actually swatched the eye shadow's in Sephora when I spotted it there last week. They have the most creamy texture, it was a dream on the finger tips. The colors didn't need that much swiping and had a ton of color just with one swipe of the finger.
Then we have the new caramel tinted Brow Gel. I'm not entirely sure how to use this product. I'm personally excited about the kit for the lip glosses and shadows. Do you just brush this on your brows like a mascara? I'd assume so. Kind of a neat product if you want your unruly brows to stay shapely. ha. Shapely. It's like I'm talking about bodies. But I'm here talking about hair. On your face. Carry on folks…
I ended up giving the brow gel to my co-worker L McMomsie who is usually featured on my blog at least once a month. She has such blonde hair that the caramel color of this brow gel was absolutely perfect for her. L literally brushed it on her eyebrows and it made a noticeable difference, but not too out there. It looks good on her!
Anastasia's See and Be Seen promo image*
Love the vintage ads they've designed for this exclusive (my new favorite word) kit.
What do you think of the kit being exclusive? Do you like the colors in the kit?
*Press photos were supplied by the PR company of Anastasia