Birthdays are like Christmas to me. I could barely sleep the night before my birthday. Seriously, just like a little kid. It was probably the cupcake I ate right before bed. Hey, I had to test it out to see if it was fit for my co-workers to eat. It's not that I love getting gifts… because that's always great. It's just that I get phone calls from family and friends and, I just love that!
Whenever it is someone's birthday at work — the birthday person has to bring in treats for the staff. I ended up making boxed cupcakes, along with some homemade shortbread cookies. Apparently it was the best shortbread everyone's ever tasted. But I wouldn't know because I personally hate shortbread. So maybe I'll post the recipe that I have.

I set my alarm 10 minutes earlier than normal yesterday morning just so I could get the most out of my day. I usually wake up at 7am to get to work for 9. I don't take that long to get ready, I'm ready in about twenty minutes and the rest of my morning is spent with Alfie our Pomeranian because he's left alone for 8 hours of the day.
I got up at 6:45 and got my shower immediately. Then proceeded to make the Boyf and I a "big breakfast". I made six eggs (lol I know), scrambled them and made hash browns for the both of us and had three sausages for the boyf. Those things are gross.
When I got into work I nearly teared up because L McMomsie (who I blogged about just hours ago) brought in a birthday card and some cake pops for me! I seriously "awwed" at the fact she did such a nice thing like that for my birthday!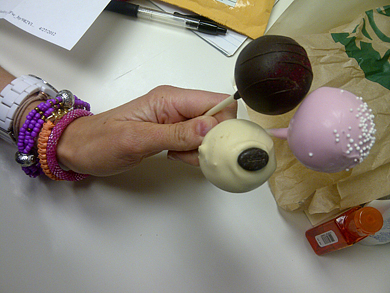 (My desk is an organized mess)
As soon as I sat down at my desk my boss came in and sang happy birthday to me and brought me some McDonalds breakfast — my favorite one at that: BLT bagel with a chocolate milk shake. OMG you guys. Two breakfasts in one day. I normally skip this meal, so by 10am I was full to the brim.
On twitter the other night I won a free lunch from a local pub. They always tweet free lunches and I said it was my birthday coming up and asked if I could win – and they let me! Wahoo!
So, my besties from work, Julie and L McMomsie all went out for lunch!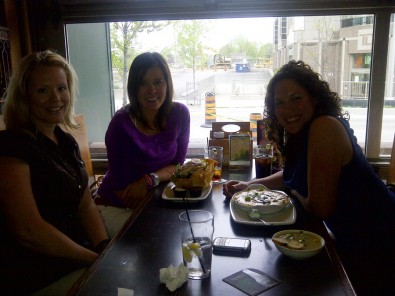 So fun!
L and I ordered the same thing. It was freaking delish and I want to go back for more. Or at least get the salad dressing recipe from them. Holy moly.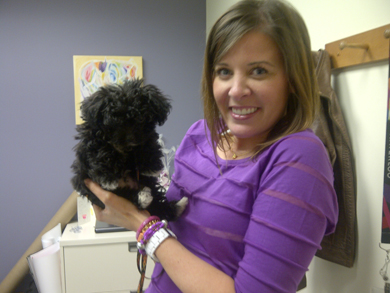 My boss bought a puppy over the weekend, and brought him into work after lunch. Isn't he just the sweetest? You can't see his eyes over his little mop head, but he's 2lbs and he's a Yorki-Poo mix. So so cute.
Of course a birthday wouldn't be complete without a birthday cake and candles! Scott bought this delicious red velvet cake/cheesecake mixture and it tastes … AMAZING!
P.S. Happy Birthday (today!!!) to Jess and her twin sister Sarah!
Don't forget about my Birthday Giveaway! You can enter daily: