Whenever flipping through magazines nowadays, it's difficult to believe what one can achieve with a mascara. Real life is untouched, why can't ads be somewhat "normal" or realistic looking anymore?

I mean, come on nobodies real eyelashes look 2 inches in length and a millimeter thick in diameter. It most definitely portrays unrealistic expectations. While of course it's trying to market people to believe that it could be somewhat possible to get such looks. It's getting out of hand and I'm tired of seeing everything photoshopped to death and having the photograph look nothing like the printed advertisement, as it's completely changed into more of an unrealistic image.
As an example, here is Dior's mascara ad. You will not achieve this look with just the mascara alone. No one's eyelashes are that dense. They're using falsies and photoshop.
Make Up For Ever recently launched it's first international open-casting call for the Star of it's Unretouched Ad Campaign. They were on the hunt for regular women out in the world, who would be okay with not being digitally retouched, or enhanced for Make Up For Ever's upcoming ad campaign.
The open casting call ran from January 2 — February 1, 2012. All of the finalists' photos were featured in a photo album on the MAKEUPFOREVERUSA Facebook page. The winner was announced on February 9 and then flown to NYC for the photo shoot. It was open for all women age 18 and over residing in the U.S. and Canada. The way the contestants entered the contest was they had to create a picture-perfect make up look, and then submit their photo to Make Up For Ever.
Waterloo's very own Emily Zhang was selected from thousands of entries and she is now the new model for the Make Up For Ever Unretouched Canadian Ad Campaign.

See the HD Casting Call video here.
Emily was flown down to New York City and enjoyed a full day of pampering, make up application and a professional photoshoot. All make up used on Emily for this campaign were solely Make Up For Ever HD products.
As many of you use Make Up For Ever's HD foundation, you know that it already gives a flawless complexion to the skin, and looks wonderful once photographed, thus no need to do any photoshop retouching.
 Here is the final ad that has the featured Emily Zhang, in the Make Up For Ever ad. Image courtesy of Make Up For Ever.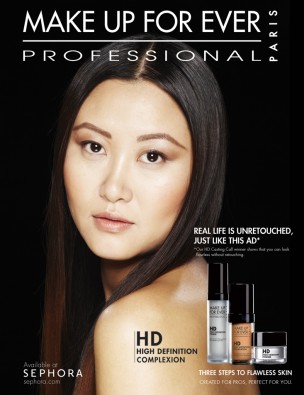 (click to enlarge)
Beautiful!
Emily Zhang was born in Dalian China and also lived in Australia as a child. Her family moved to Canada when she was 8 years old and lived in a few different cities until they settled in Waterloo, Ontario. She attends the University of Waterloo and is finishing up in her last term. She sums up her interests in two words: makeup enthusiast. Emily is a bit like me and you'll find out in the YouTube video that she too, didn't venture out into make up products until a few years ago. Emily hopes to work in the beauty industry after she graduates from UofW.
I'm super stoked that a Canadian was picked let alone someone from my neighborhood!