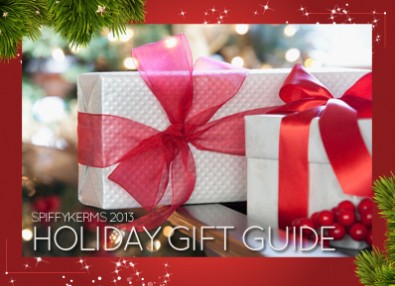 The Stila Color Me Glossy lip glaze set is another fantastic gift idea for those on your Christmas to-buy list this year. You can see in the photo below that it comes in a fun box with nine shades of glosses to choose from. However they're packaged in three trio's, so you can potentially separate them and give them as three individual gifts to your friends.
I foresee these glosses being popular with a younger crowd just getting introduced to makeup. I've tried a couple of them out and they weren't my favorite glosses in the world. They tend to be more sticky on the lips and the colour payoff was much left to be desired. But that doesn't mean to say others wouldn't like them. Some would rather have a subtle wash of colour on their lips and I've heard so many people enjoy the Stila glosses. I'd just want to wear these with my hair pulled back off my face.
However I can vouch for the longevity of the product, and they glide on so easily. You know how some glosses just goop on and hard to smear around on the lips? Not these. The glosses love to stay on for a few hours, which is really nice especially due to the fact that they're shiny on your lips and you'd expect them to last no longer than an hour.
The colours in the collection are beautiful. My favorite one's are the soft pink nudes on the far right. It just adds a little extra somethin-somethin' to your lips, know what I mean?
Colours in the set: Cranberry, Persimmon, Melon, Dazzleberry, Wildberry, Strawberry Cream, Passion Fruit, Kaleidoscope, Amaretto.
And for the price? You can't beat it. Especially if you're going to separate them and give them as gifts. The set of nine lip glosses is sold at Sephora and retails for $28 USD ($124 value) / $36 CAD ($161 value).
Have you ever tried the Stila lip glosses?
What brand of lip gloss is your favorite?
p.s. I received the Stila lip glosses as a PR sample. Opinions are my own.