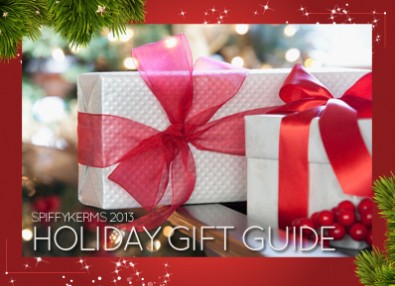 My first dupe post! I finally found two products that are not exactly twins, but sisters in colour, texture and longevity.
Meet the bronzey eyeliners from both Marc Jacobs and Stila.

I know right? I was so excited when I purchased the Marc Jacobs Highliner Gel Crayon that I wrote about it immediately. But see for yourselves and then you can decide for yourself whether or not you should purchase one or the other. But considering that the stila colour outside the lines smudge stick waterproof eye liner set (mouthful) comes in a set of 5 for almost the same cost as a single Marc Jacobs eye liner, you're decision is probably already made.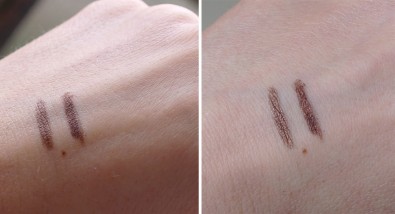 Left to right: Marc Jacobs Highliner Gel Crayon, Stila Smudge Stick Waterproof eyeliner. Both photos are taken in natural light. One was outside, the other inside by the window. There is a slightly more bronze showing through on the Marc Jacobs, and a little more deeper red in the Stila but if you apply it on your eye, there is no telling which colour you have on.
The only real difference you can tell between the two is application. The Marc Jacobs liner glides on quite easily, is a little thicker, and the Stila one is just like any other eye liner — easy to apply and has a more precise line.
For the person who enjoys playing with eye liners, this set would be another great gift for the makeup enthusiast. Look at all the colours you get in the set.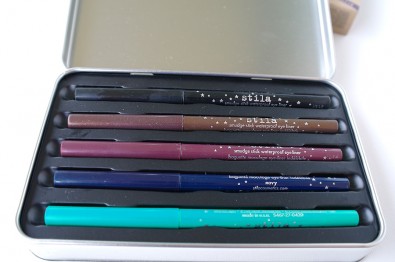 Swatched left to right: Stingray (a super deep black), Lionfish (MJ dupe!), Aubergine (an easy to wear mauve), Navy (perfect for blue eyes), and Emerald (amazing for a pop of colour under your lower lashes).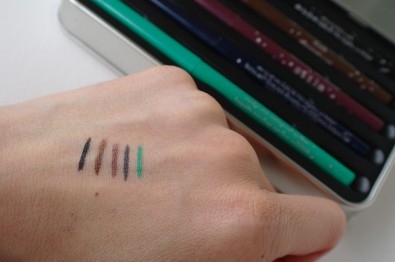 Marc Jacobs eyeliner is available at Sephora for $30// 0.1oz
Stila Smudge Stick Waterproof Eye Liner is sold at Murale for a set of 5 for $39 // 0.01 oz