Chhhyeah buddy, the giveaways are just'a flowing right in here lately, aren't they? It's pretty great.
Round two of the Philosophy sweet wishes is happening RIGHT NOW and I wanted to get this giveaway up as quickly as possible so you guys would have another chance at grabbing a coupon for sending a sweet wish to one of your loved ones, or you know – not so loved ones if you're admiring them from afar. Sounds kinda creepy to me though. Let's just go with the loved ones.
Visit Philosophy Wishes and send a free e-card / sweet holiday wish! They've added 5,000 more philosophy purity cleansers (my fav!) to the mix and here's hoping you can score one! And just for doing that I'm holding another giveaway with more Philosphy products.
Oh my heck.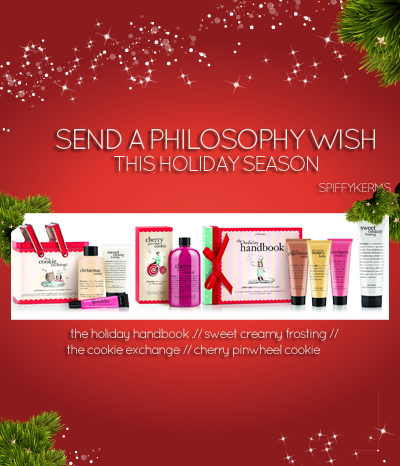 Click to enlarge the images if you want to see the real deal.
I mean, wowzers this prize package is valued at $101! Whoever wins this is going to make someone really happy this Christmas, or bathe in it all yourself and smell extra sweet. Ha! I'm probably more excited than you guys are about this.
The giveaway includes Canadian residents however Quebec is excluded from this one, unfortunately. Don't forget you still have a day and a bit to enter my other philosophy giveaway.