Scarves seem to be the topic these days. It will only continue!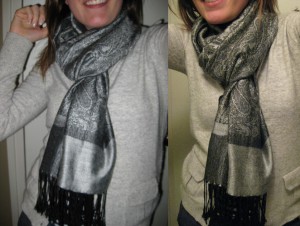 I told you I was addicted to Etsy. When I was doing my Christmas shopping (yes, I am finished with the exception of my Boyfriends main gift) I decided to do it all online this year, and mostly on the wonderful place of etsy. I have no idea how I found this person, but I did and I'm glad I did at the right time because she was having a free shipping sale for her handmade scarves. Handmade people! This scarf I am wearing, was actually made to order, for me!! It came to a total of $30 USD with free shipping (which would only be $4 anyway to Canada), and since our CAN dollar is near par with USD as of today ($1.01!), it'd be a great gift. I would however suggest that you order one that is pre-made in order to get it for Christmas, if that is what you were planning to do.
Isn't it amazingly gorgeous? What you all don't know about me, is that when I was trying to figure out what I wanted to do in life, I was enrolled in a two year Arts program at a college. I learned to weave, and I loved it so much so that my Mom considered buying me a loom. Until I objected saying it was the most retarded thing she had ever suggested. Even though I loved making place mats and thick scarves for others when I was 18, I didn't know it could turn into something so beautiful. So if you like my super long warm scarf, you may want to very well check out Nit's Etsy shop and get one for yourselves. I've favored a couple of them since my purchase and am definitely going to buy more things, after Christmas when I have a few bucks back in my pocket.