When you get angry, what do you normally do?I usually become a useless slob when I'm pissed at someone: surf the net, call my parents, take a shower, sleep. You know the normal things. Last night something made me so angry that I couldn't do any of the above listed because I felt it was being useless, so what better way than to spend 3 hours intensely cleaning the whole apartment? I love it, because the place smells like Mr. Clean, and my desk … oh just look at my desk. This is a big deal folks. Normally I'm quite organized with a lot of things regarding the apartment – but my desk is the only "mine, not yours or ours" thing in the apartment (lol) and sometimes it gets quite out of hand when I neglect it. It looks so pretty now, at least. I wish it wasn't so ugly though. As you can tell, I tried to decorate it with some ribbon on the bottom of my monitor. Kinda cute? Or major fail? You decide.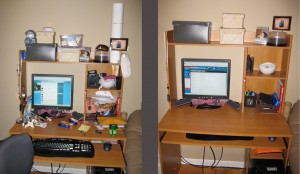 [click to enlarge]

Today's Sunday. This time last week I would have been getting ready for soccer — so instead, I have my bowl of popcorn ready to get popped and waiting to watch thee best show in the house: Desperate Housewives! Apparently someone DIES tonight. I hope it's Kathryn.
P.S: Don't forget about:...