It's been a half-arsed kind of day. I slept in but as soon as I woke up I was running full tilt non-stop. First up I made a big breakfast for the Boyfriend and I. More like a brunch due to the time it was served.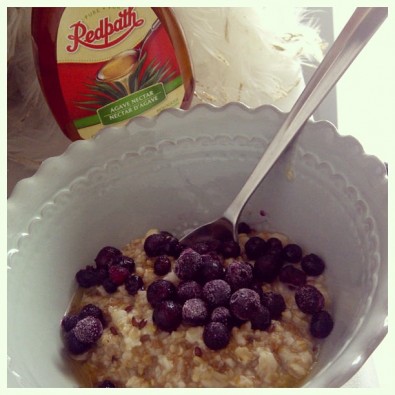 Then we were still hungry so Boyf made some steel cut oats for us which I topped off with Redpath organic agave nectar and frozen blueberries. It was the perfect amount of sweetness for the oats.
I'm trying to cut back on my sugar consumption as much as possible. Anyone who knows me, knows that I eat … well, not the best food in the entire world. McDonalds and candy being my two favorite things to devour. So, I'm starting to think I should take up the paleo 30 day challenge. Not only because I find that wheat may have an effect on my eczema, but also because I'm checking in with someone. I'm liable per say. If I'm challenged, I won't want to fail. If I start it on my own and don't tell anyone about it, I will sneak in a chocolate bar here, or a bag of skittles there.
I'm scared to be honest. I don't want to be tired and cranky and go through sugar "withdrawals". Because I'm scared, it makes me want to do it more, to see how well I do. Know what I mean?
It doesn't start til next month and I'm starting to slowly not take in as much sugar, gluten and dairy. Ugh, it's a pain in the butt let me tell you that much. So I've done a bit of research and even though it's not paleo, it's helpful: the low carb grocery store has some great recipes that look mouth watering. Not only that, those google plus albums I linked also shares store deals and have some great articles. Check it out if you're looking for some low carb foods.
What has your Saturday night looked like thus far? I gave myself an at-home manicure with these Essie nail stickers which I think are terrible.
They're thick and they don't stay on as well as the Sally Hansen one's I've used. But I also heard that Sally Hansen one's dry out quicker than the Essie one's. Good thing I didn't spend any money on these Essie one's since I got an offer in the mail, and they came with a few samples. Cute, but like putting masking tape on your finger nails. Ugh. Brutal. I'd go with the Sally Hansen ones if I were you.
Oh, aren't these cute by the way? Owl trinket things I picked up from Michael's craft store yesterday while on my lunch break. They were only a $1.50 each!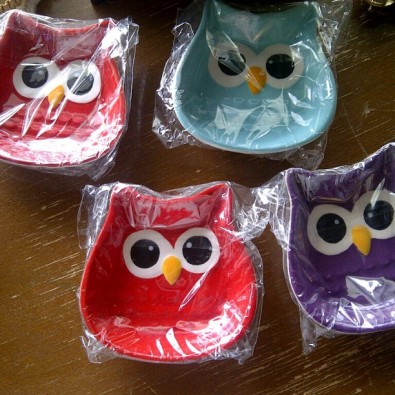 K, I'm out!