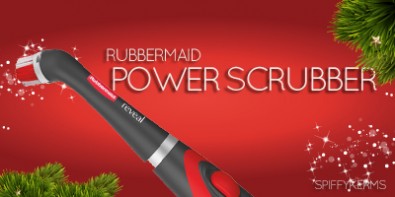 Many people dread deep cleaning their kitchens, or bathrooms. But I actually really enjoy doing it and if I can do it even faster, hey that's even better in my opinion. I blame my years of housekeeping at the Hospital for me "like" of cleaning. I'd rather not say I love cleaning, because who honestly LOVES to clean?
I usually take a day out of the week and really deep clean those two places in our apartment, and sometimes it takes a lot of time and effort if I've slacked off with really doing a good job.
My go-to cleaning products and now I've added a spinning brush to the combo. Meet the Rubbermaid Power Scrubber. It claims it cleans 2 times faster than manual scrubbing since the oscillation head scrubs 60x per second. But look how tiny the head of that scrubber is. I'm not going to be cleaning my shower with that thing. I'd only reserve that for around the sink in the bathroom, or on the stove top in those sneaky hard to get places.
I'll tell you  a little trick stupid thing I used to do, before using the handy scrubber. I sometimes cleaned the gunk out, from either the stove or sink–with toothpicks and qtips. That was tedious. Especially when they broke. Not to mention the size of them, trying to scrape everything off.
Plus, any tool that can aid in helping me do chores faster, and you've got my attention. Rubbermaid comes out with all sorts of neat mechanisms for helping you around the house, doesn't it?
Let's get ambitious here and get ahead of the game before the Holidays sneak up on us. Visitors will be making more frequent visits to your house — so your place better be sparkling and smelling fresh. Am I right?
I'm not actually cleaning my bathroom tiles with this — I mean you could clean the grout. But let's get real. I'm in an apartment building and I'm not too picky about the shower grout looking lighter brown than darker brown. This is to just show the size of the product.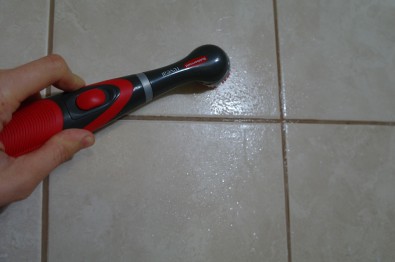 Here are some brushes you could interchange for different types of jobs around the house. The larger one on the bottom right you can use for bigger surfaces around your sink and stove. It gets the job done, that's for sure. I didn't really want to stop using it.  I think my favorite brush head has got to be the pointy tip one on the left hand side of the picture. It replaces those toothpicks and qtips for me.
Would you like to win a package of 1 Power Scrubber plus three different interchangeable heads (grout brush, multi-purpose brush and large multi-purpose brush)? It'll make your house all sparkly clean! Just pump up some music and get going. Visitors are coming.
Revealâ"¢ Power Scrubber
Cleans up to 2x faster than manual scrubbing with its oscillation head that scrubs 60times per second

Three interchangeable accessory heads can be used to tackle various jobs

Multi-Purpose Brush – great for fixtures and tight spaces

Large Multi-Purpose Brush – great for sinks and stoves

Grout Brush – great for grout and corners

Watertight assembly

Two scrubbing settings – pulse and continuous

Ergonomic grip and rubberized molding for comfortable cleaning

Tool delivers 6 volts of power

Available at The Home Depot, Loblaws and London Drugs. MSRP: $19.99 for scrubber and $6.99 for additional accessory heads
Giveaway is open to residents of Canada.