I hope everyone had a good Wednesday! Usually I write up my blog posts in the morning and push them live right after. But this week seems to be really busy. With all of the giveaways happening, and the biggest day of the year at work (yesterday) it's just madness! In a good way. I don't set up things in advance, but I really should've done so this week.

I just got home from picking up a few groceries and decided to skip CrossFit tonight since I'm starving and just have zero time. Thankfully I had my meal plan stuck to the fridge so I know what's cookin' this week. I don't always follow through with what I had planned. In fact, tonight's dinner is going to be left overs. Groan.
I actually really hate having left overs and don't mind cooking each night. But since I knew today was going to be extra busy I thought ahead of time last night, and made extra chicken for us. Ahh, smart thinkin' hey?
Tonight I'm having a good ol' fashion sandwich made with Dempsters bread.
Shown in the photo above:
Dempsters Whole Wheat bread

Fresh cooked Chicken breasts (from those individual Maple Leaf "Portions")

Chef Robert's Roasted Red Pepper Aoili that I picked up from a gourmet health food store

Mozza + Provolone cheese

Tomatoes

Maple Leaf bacon

Spinach

Everything was cut up the night before since I knew I would be short of time. Then it was time to take the photos for the blog!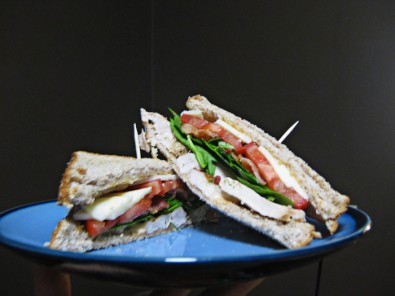 Isn't this picture hilarious? It's like the sandwich is doomed. Why is the background so dark? I know we have brown kitchen walls and all, but still.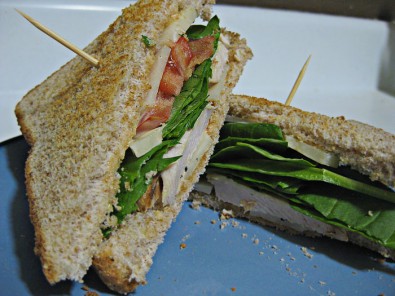 Photos had to happen quickly, because we were both starving. I know the crumbs kind of take away from the photos, but that's all you can do when your tummy is growlin' to feed it.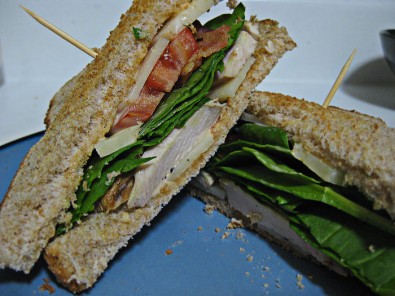 Looks good hey? It was gone in 1.3 minutes flat. Just so you guys don't feel left out, I'm going to include you in a sweet giveaway thanks to Maple Leaf Canada.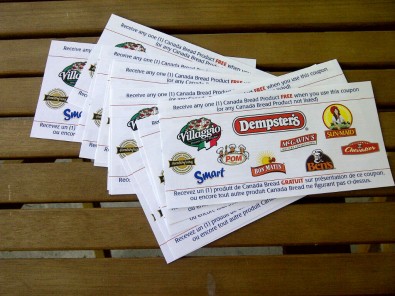 I have 10 free Canadian Bread product coupons for two lucky Canadians to win (five "free product" coupons per person). Be sure to use the coupons up quick as they expire on December 31, 2012.
Use the rafflecopter form below to enter! Contest is open to CANADIANS ONLY.

You can find Dempsters on Twitter, and Facebook too.
I am a member of the MLF Connects program. As part of my participation in this program I have received compensation, however all opinions in place and ideas on this blog are my own.