I don't know why I always seem to get the Ipsy monthly subscription bag weeks before anyone else. It generates out of San Fransisco California and I get it the very next day, where as other Canadians get it weeks after me. It doesn't make sense, but I'll take it!
I always like to wait until the end of the month to do a review of the products I revived in my monthly subscription, because I then have 3+ weeks to test it out and review it for you guys. So that's what I'm doing here today.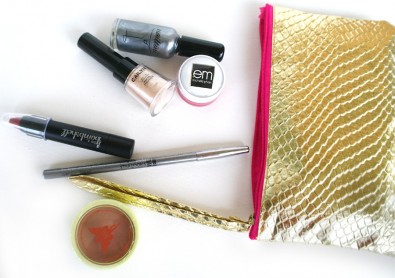 The grey nail polish by Nailtini I gave to my co-worker Amy. She loves those colours.
EM cosmetics lip balm. I was excited to receive this since it's the Queen of YouTube makeup videos, Michelle Phan's new line of cosmetics. It a tinted lip balm in a jar which has great consistency to wear every day and apply with ease without a mirror.
Cailyn is a powdery mineral eyeshadow in a gorgeous gold shade. It has this unique applicator, it's a sponge tip but you shake the product around (when closed) and take the wand out and apply it onto the lids. It's pretty neat.
Bombshell lip crayon was also given to my co-worker since I thought she'd enjoy this shade of lip product. I didn't swatch it on my hand but she showed me a photo of her wearing it over BBM and it looks very natural with a "just eaten a popsicle" colour on her lips.
Starlooks Eyeliner was a milky shade of silver and glided onto your lids like no other eye liner I've ever swatched. Very soft. I disliked the colour so I gave it to my boss and she was THRILLED to have and use it.
Pixi bronzer sells at Target. It's a light coloured bronzer that would be perfect for adding a bit of dimension to your face during the winter. I think this would be best suited for lighter skin tones as it just barely showed up on my skin when I had self-tanner on. So I've been using it when I'm not applying tanner and it looks natural and very easy to wear.
What did you get in your bag this month?
See my ipsy bag from October. Sign up for Ipsy (yup, my referral link) it includes free shipping. Cost: $15CDN / $10USD which includes free shipping for both Canada & USA.