I don't think there's any beating around the bush. Practice doesn't always make perfect, especially with me and hair styling my own hair. I just don't get it, and I probably never will. My hands fumble, my hair gets burned and I start sweating. Not sure it's worth it. How do these beauts get great curls like that? Seriously.
I've been testing out the QT performance diamond ceramic flat iron that I received from Flat Iron Experts lately, trying to achieve any of these looks that I see on Tumblr but no dice friends.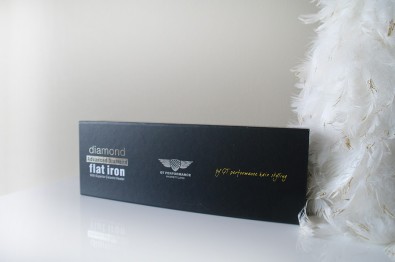 I won't be making any tutorials on how to make curls with your flat iron, or how to get volume in your hair. I just don't know how.
I tried to recreate the look that I had done while at the BlissDom conference, one of the booths were doing hair and makeup on the women, and I got my hair curled. I loved it. I can do one side and it looks decent, then my left side looks silly. Maybe I can just rock the one-sided curly hair? I can start a new trend, can't I? Will you follow me? Lol.
What I do know how to do, is make my hair go from this, to this:
Dang, you guys… I tamed that mane.
Less fly aways, less kinks, and it makes my hair look longer. I love long hair. I've been trying to grow it a little longer. A few more inches and it'll be at the perfect length.
Side note. Kinda love the rubberized look of this flat iron.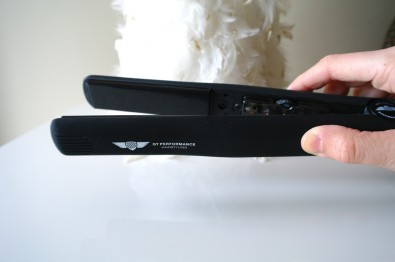 It heats up in a minute or so, just like my older flat iron did. So it's not super fast, but it doesn't really have to be.
I usually turn it on, then blow dry my hair before straightening it. Double whammy but sometimes I need my hair to look good, even if I'm tucked away in an office in the back of my building at work. For instance, the last week in November is always the busiest time of year at my work. I'm the one who organizes our Annual General Meeting and it's finally over. I can relax. So times like that, I brought my straightener to work to touch up my hair before the big event.
I try not to flat iron or heat style my hair too often, because I have really fine hair that breaks easily. No matter how much I try to protect it with sprays, there's no denying that heat isn't the best for your hair.
However, if you're smart — you can always add some dry shampoo and keep your straight (or curly, if you're lucky) styled hair in tip top shape for the next day or two. Or whenever you wash it again. Uh.
How often do you heat style your hair?