Surprise! Another hike! My ass was killing me on this one. It was either a 4 or 5km hike, and we gained 1km of elevation. So in practice it took about three hours to go up it.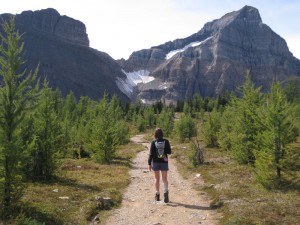 This is the exact spot where I think I lost my camera battery. It wasn't a huge deal since I had two to begin with, since I'm a sucker for Canon's and they always break on me. Now I only have one.
Very steep. Very high up. So high that there's snow on the ice peaks now!
The view was breathtaking. Of course the photos don't do it any justice, but I tried to capture the moment the best possible.
Coming down the mountain was just as difficult, since it was so steep, even sliding on my bum seemed dangerous and I was going to roll the whole way down and break my bones in half. I didn't notice that Scott took a photo of me. But this is what I basically looked like the whole way going down. Strangers coming up the mountain who were incredibly out of breath, even stopped and grabbed my hand for support because I was so scared and shuffling type steps of a 120 year old woman on flat land.
THEN WE WENT TO BANFF!!! YAY! Wait until the 6th, and final vacation post to see those photos!

View the other vacation [BC/Alberta (1) | BC/Alberta (2) | BC/Alberta (3) | BC/Alberta (4)] entries!