Okay I couldn't hold off to post this one. It's my last BC / Alberta vacation entry and I'm excited to show you all my last parts of the trip. Enjoy!
Hey Banff! Nice to meet you!
I was so excited to go here. So many of my climbing friends have moved out west, and actually two of my bud's live out in Banff. Unfortunately for us all, while we were visiting Banff, they were actually in our city in Ontario visiting their family! How crappy :( So we didn't get to see them.
We took the banff gondola up the mountain and walked around for a bit.
I asked Scott to take my camera, reach his arm out and snap a photo of the both of us. Again, by this point it was basically towards the end of the trip and he was probably so sick of me asking to take a photo of us together. Funny thing was, he said … NO.  Then as he was about to take the photo of me, another woman noticed that he wasn't in the shot with me, so she asked us if we'd like our photo taken together. Ah-ha! I nabbed him and wrapped my arms around him and finally I got our photo taken. Hence why I'm laughing hard and he's like "Ohhhh great."

It was drizzly rain, super incredibly windy and I think I saw a snowflake once or twice on the top of that mountain. Fortunately for me, I get cold easily and since I knew we were going on top of a mountain I dressed for it. Unlike Scott! He had a rain coat and a t-shirt on underneath. Being the sweet girlfriend I offered my rain coat to him since I had just bought this red hoody zip-up at the souvenir shop on the top of the mountain. Yes, we can wear each other's clothes. Shush about that now.
Hunky, right?
Banff hoody, on! Get your pose on.
I love having my photo taken lol. I asked a stranger to take this one of me. It's at the tip top of the mountain. There was a little trail (shown below) that you walked to, to get to it. This is at the tip top of the mountain, and to the left of the makeshift ancient house.
After riding up and down the Banff Gondola, we trekked out to see the Hoodoos over at Mount Rundle. Pretty little spot hey? 
I should probably stop narrating these photos because we went and visited so many mountains, and I didn't write any of them down. I'm sure Scott would know more of the names than I would, but he's not here and I'm not waiting to publish this.  :) So this above folks:  A mountain. Somewhere in Alberta.
Remember the video I took and showed you all on this post? Takakaw Falls in Yoho National Park. Super pretty.
It was pretty cold there too. Can you count the layers?
Look at those falls. I could have stood there all day and watched them. If it was warmer.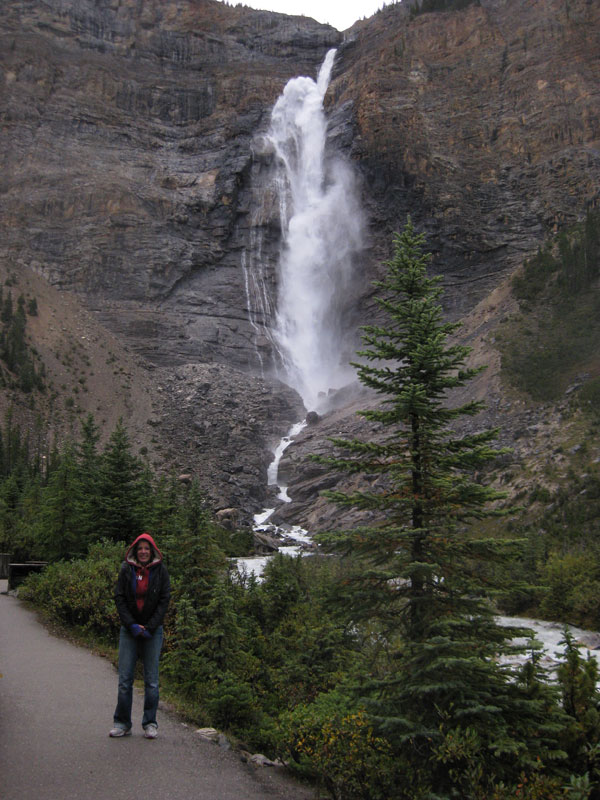 Brrr. I'm clenching my hands in this photo. I guess towards the beginning of September isn't the best time to under dress for this place!
We saw an Elk (?) Moose (?) on the drive back from the falls. I even took a video, but I'll spare you the one minute of goodness where it's just eating grass and scratching its antlers.

We then tried to head back for the night and make it over to Kelowna as our flight was the next mid-morning. But not before we stopped to view the super neat Spiral Tunnels. Somewhere around Field / Yoho National Park.Only trains go through these tunnels and at certain points if the train is long enough you can see the front end of the train coming out of the end tunnel while the remainder of the train is still entering! It goes inside the mountain, not around. Very neat.

I get silly like that. This was in the parking lot of the viewpoint for the Spiral Tunnels. Clearly I was loving my new Banff sweater.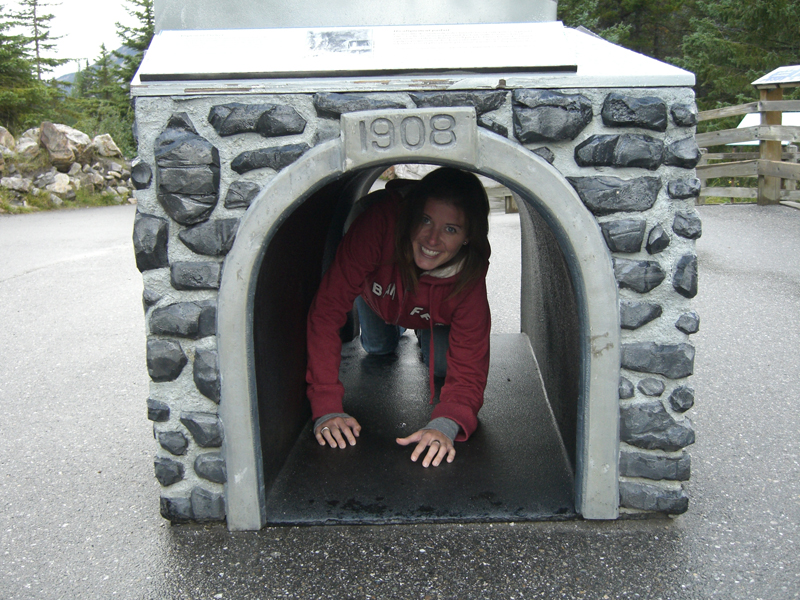 That sums it all up for our British Columbia and Alberta vacation photos. Hope you have enjoyed them! I wish I could have shown you all of them. But there's … too many.

See my previous vacation entries here BC/Alberta (1) | BC/Alberta (2) | BC/Alberta (3) | BC/Alberta (4) | BC/Alberta (5)]