Version four of my vacation post? When will it ever end you ask? NEVAH. Okay. Actually you know what? I have no idea when the vacation posts will end, because I'm just grabbing 7-10 photos as we go until I reach the end of the large file folder filled with my photos. Hope ya don't mind! Don't forget to click and enlarge the photos.

We headed out to a suspension bridge that didn't end up looking anything like what we had imagined. There is a train tour that we could have rode on, but it only ran on certain days so we didn't get to hop on one. Since Newfoundland's railway system stopped in about 1986, I don't think I've ever been on a train. I've always fantasized about them because I remember living on one street back home in St. John's, right in front of a train track. Of course there was a huge fence about 6 feet tall, so my Dad used to put me up on his shoulders when I was a toddler and watch the train go by. Apparently we were related to the engineer that drove it. Something like that. I don't remember the story. So every time I see a train go by, I just reminss about the days where Daddio and I watching them together. Hee!
We're playing around the railway tracks a bit in these next few photos: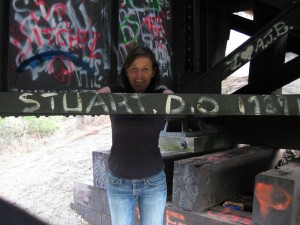 Scott decided to monkey his way down this steep hill to get to the almost/bottom drop of the cliff. Look how tiny he is compared to the train track … tower.

Finally we decided to mosey on our way and find a spot to do a winery tour. Drove around and saw this Mediterranean looking one, but what we really had in mind was Quail's Gate. Boyfriend's friend recommended this one, and boy was it a great choice. Beautiful spot, amazing food and wine. We were treated like Royalty there. It was great that we were the only people there. We reserved our table for 5PM right after the wine tour, and wine newbies like us – we had some terrific professional servers that definitely helped us out in that subject. I would have taken my camera out a bit more, but it seemed too fancy. I wish I could have shown you the food. It was so delicately placed on the plate, and it was sooo good tasting that I literally wanted to shove it all in my throat. But not to worry, I was lady like and used a fork and knife.. and sometimes even my spoon. We had a 3 course meal and ended up staying there for three hours! We learned so much, and now my favorite wine is definitely Pinot Noir from the Stewart Family. Mmm I can still taste it.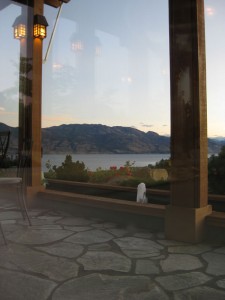 How beautiful is that scenery?
The next day we spent the whole day in the car, trying to make it to Lake Louise. We eventually made it the next day (I think?) and of course, felt obligated for more photo taking!
Oh hello Louise.
Went a little camera happy at this place. I'm sure you can tell why. Look at the gorgeous color of that water!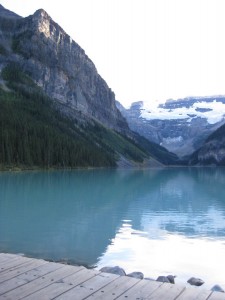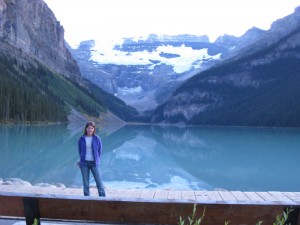 Take a photo of me, please!
The lookout on Mount Fairview. (More coming on that Mountain over on post #5).
View the other vacation [BC/Alberta (1) | BC/Alberta (2) | BC/Alberta (3)] posts!