I am head over heels excited to bring you a wonderful review I had the chance to do on the impeccable High Sierra sport company. I've been on the hunt for a nice sized pack for hiking and backpacking for the past few months, and finally found a great one. IÂ  sure would have loved to have it when I was on that long 3 hour hike uphill on Mount Fairview when we visited Lake Louise, Alberta this summer!
I do have a bit of a qualm about this pack. It doesn't rest nicely on my neck and I wouldn't be able to hike with it wearing a teeshirt. A jacket would be fine. But having the shirt on, it irritated my neck a bit. However, I must admit — it's still brand new and with a bit of wear I'm sure it will fit great on my body!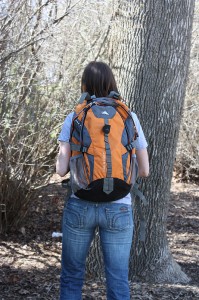 It's a nice sized pack hey? It's quite roomy inside too.
Browsing through other company websites, I narrowed down my choice to High Sierra as I thought they had the best selection to what I was looking for. I ended up contacting them just before Christmas to see if I could do a review and giveaway on this website of mine, and they surprisingly but oh so gladly agreed! I was on cloud nine when they accepted my request. See? I so love you guys!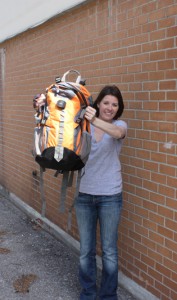 You get to receive THIS back pack too!!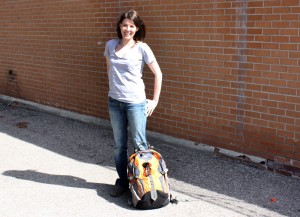 See how over excited I am about this? Couldn't stop those smiles with anything!

The Cirque 30 backpack is classified under the Hiking/Outdoors category of their website and retails for about $120. You can view the online description they put on the pack below:

Item Number: 59102
Suggested Retail: $120.00
Size: 21.5″ x 12.75″ x 9.00″
Capacity: 1830 cubic inches
Weight: 2.0 lbs.
Materials: Grid-Weave Duralite®, Mini-Weave Duralite®, Duraweave (bottom)
Colors:
0: Black
611: Amazon, Tungsten, Black
801: Chipotle, Tungsten, Black
The Chipotle (orange)  color is the one that I have for one lucky loyal reader/winner of mine! The other is for me to — of course tell you all about, and try out for myself!
This is when I first received the packs, I couldn't wait to snap a picture on my regular camera so the blackberry was in charge. What beaut's eh? Clearly I'm a huge fan of orange packs as my gym bag is orange too!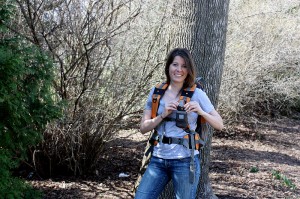 It fits me so snugly. Even a pocket for the cell. I have my priorities straight ;) The zippers on this are great quality. Even the boyfriend agreed.
All in all, the pack is extremely well constructed to carry an array of products from heavy to lightweight. You can bet your dollar that I'll be bringing this pack to Ironman Canada with us for our my vacation this year! As an active couple, Scott and I — we benefit highly from a great product such as this High Sierra Sport Company backpack, and I am so glad I got to review and represent their company on my website.
So, what do you say I get this giveaway started! Enough reading, hey? I know you all want to win a pack!
Rules:
Comme

nt once saying "Enter me!" or something of the like.

Duplicates will be deleted.

Tell me what you'd use this pack for, if you won. Yes that's another comment for you!

Follow High Sierra on Facebook. (They actually do a random drawing for a free bag, once a week!)
Follow High Sierra on Twitter.


Tweet about this giveaway: "@spiffykerms is giving away a High Sierra pack!

http://tinyurl.com/spiffykermshighsierra-givewa" (Yes, the "Y" is missing. TinyURL did that).


Blog about this giveaway on your website and tell me you've done so in the comments.
You read that correctly — you are allowed up to six comments per person. Pretty good odds if you ask me! Any more, and they will be removed by myself. Remember, I can check to see if you did any of these comments/tweets/follows/FB entries. If you comment saying you've done something and you haven't. Your comments will be removed.

Contest is open to contestants worldwide and will close April 15, 2010 12:00 noon EST. The winner will be chosen through random.org.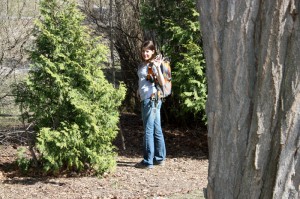 That's me waving good bye to you!! :)
Good luck all.