I paid for this subscription myself.
I'm all about subscription services and trying out new things. I love shoes, and I love handbags. I've heard so much about the Just Fabulous or JustFab.com website that I decided to try it out for myself. I know that not everyone has had a pleasant experience with Just Fab.com as you can see Linda from Rose A La Mode review about the shoes, and re-occurring monthly charge here.
JustFab is a monthly subscription service that caters to the recent trends in fashion, so they sell everything from crazy high stilettos, to flats, purses, and also clothing and accessories.
First you take a style quiz in order for them to figure our what kind of fashion style you're into. It's pretty detailed, asking you what heel style you're looking for, you can select as many as you'd like. It also asks you what color shoe you'd prefer. You're not limited to what you pick in the quiz, so you can browse around their online store once finished.
There are two options for JustFab. A Pay-As-You-Go membership which is no monthly fee but pricier items, or you can become a VIP for a re-occurring $39.95/month. You must visit the JustFab boutique by the 5th of every month and if you do not like anything in your "show room" you can skip that month, and as many months as you wish and you will not be charged the monthly fee. If you do not visit in the first 5 days in the month and say "skip a month" you will be charged $39.95 on your credit card.
I grabbed this info from their site:
VIP Program

Every JustFab style is only $39.95 (save up to 50%!)
No obligation to buy. Skip any month and cancel any time.
Free shipping & easy exchanges (Lies. Canadians pay $9.00 shipping)
Access to special collections, private sales and exclusive promotions
Earn points toward free shoes!

Pay-As-You-Go

Access to the season's hottest styles for $49-$79
Free shipping & easy exchanges
No need to skip the month
Unfortunately for us Canadians, we pay $9.00 shipping. Not bad seeing how we're getting a 50% discount at the beginning for signing up. The only reason I signed up is because of the promotion code. New members get 50% off their first purchase of anything in the store. Heyyuhh! I'm all about that.
Below is my first purchase! The Daredevil bag in person vs Daredevil bag online. It also comes in leopard print and hot pink. Online it's shows you can wear the "flap" upwards, but I like it hanging down over top. I'm half surprised at myself for buying the Daredevil bag. The chainmail links are kinda hard-ass looking, but at the same time it suits the bag. I placed my order on Sunday July 15, and it arrived to me on Monday July 23. Pretty reasonable shipping seeing how it's coming from Kentucky.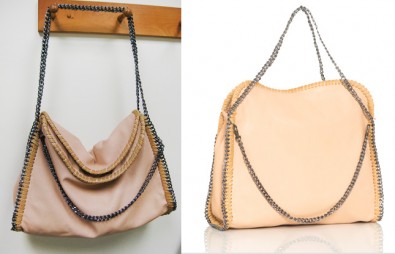 I've never intentionally purchased purse-knock offs, but they do have a few Céline-like bags for sale, and they are kinda cute.
JustFab Portofino Bag vs Céline

I also like the Sorbet bag. But I have a ton of purses already (see my purse collection blog post), and don't need any more!
I do have a referral link, as does everyone when they sign up with JustFab.com. You accumulate points for free product. For the purchase of my Daredevil purse, I earned 20 points. I need to reach 350 points = 1 free member credit. Or refer two friends = 1 free member credit.
Something I was concerned about: canceling my VIP membership. It's under their FAQ section of the JustFab website. It doesn't seem that hard to cancel, but you do have to do it over the telephone and Linda from Rose a la Mode had a difficult time phoning them and actually getting an answer. So, we'll see… maybe I'll revisit this in a few months if I decide to cancel, and let you all know how it goes.