Previous Chevrolet Cruze posts: GM Canada meets spiffykerms // On Star. My new favorite button
As you all know, for the last week I've been driving around and reviewing the 2012 Chevrolet Cruze LT Turbo in the fun Crystal Red color.
One of the first things I noticed when investigating the car's features was that it had Satellite Radio for us to tune into! As I mentioned before I haven't stopped listening to the Satellite XM radio.
I've been loving three stations and have been switching between them. Note that the satellite radio isn't free and has a fee for subscribing to it. I'm not sure how much it would cost if you'd like to have it for your car, but it was a nice feature to have in the press car.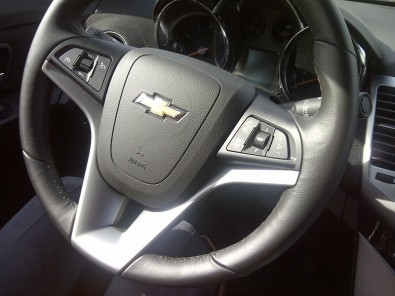 You can see all of the buttons on the steering wheel here. I primarily used just the volume control. The steering wheel is quite lightweight meaning that it's not a sporty hard-to-turn wheel. It was a bit difficult to get used to since I do quite a bit of highway driving and I had to get used to trying to keep the car straight. Any little movement with the wheel and the car would steer in that direction.
The car has a lot of neat bell's and whistles. For instance, when you turn the ignition off and take the keys out, the music continues to play. Even if the passenger doors open. Only when the driver's side door open, does the music stop. Often times before work I sat in the car listening to the music.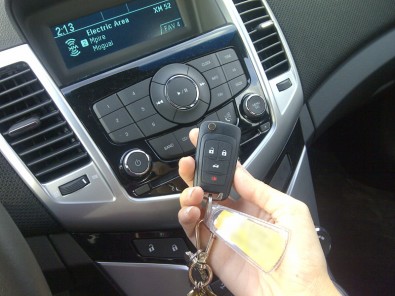 To get comfortable driving the car for the week I had to adjust the driver's seat. Adjusting and tilting the seat is fine, but the lumbar handle is almost like you're reaching to the back seat to grab someones feet. It feels further back than it should. I couldn't find it for the first few days. I also tested out the back seat to see how well adults could fit back there. It wasn't the most roomiest but it was comfortable for me and I'm at 5'6″.
One thing I was really a fan of in this car was that there wasn't any getting used to the blind spots. I felt like nothing was blocking my way at all when I looked over my shoulder to change lanes. With other cars I've taken a few days or even weeks to get used to the blind spots. Plus one for Chevrolet on that one!
I have to drive about 15km to work every day. Some days I take the highway and other days I take the typical stop and go traffic. While I've only got the car for a week I feel like it's pretty decent on gas on both scenarios. On the website the fuel consumption for the 2011 model is 5.5L per 100km. I used a total of about 3/4 of a tank in the week and I did a significant amount of driving. I put around 350km's on it.

I noticed that you can personalize what you see on the dash board when you twist this lever.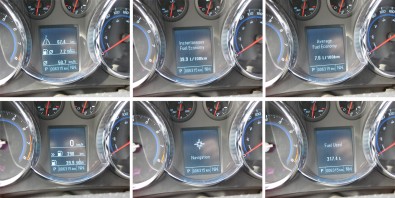 Shown above are most of the options to choose from.
I'm used to driving fairly medium to large sized cars. The car I own now is similar in size to the Cruze, and my parent's car is a nice big boat. So I feel like the Cruze is a modern mid-sized vehicle fit for a family of four. Or in my case, a family of two.
Little things on this car excite me. I love having a clean and clear windshield. I'm used to spraying the wash up onto the windshield only to have it wipe 2-3 times and leaving dry streak marks left from the wipers. Which can be an annoyance while you're driving and sometimes would need to re-wash it. Not on this car though! It you just squirt the wash gently it'll only use your wipers once. If your windshield needs a crazy thorough cleaning and you hold the wash wand for longer, it'll wipe more times than just once.
Things I enjoy about the Chevrolet Cruze:
The soft suspension makes for a comfortable ride since it cushions the bumps that may be in the road.

It was surprisingly quiet on the road. Even though it had winter tires on.

Gets up to speed on the on-ramps to highways quickly.

Satellite radio! Usually I'd listen to the radio and rarely my CDs that I always have in the car. But this past week I've been rocking out to the satellite radio stations. So much better selection!

On-Star services (

though it did lead me astray once

).

Comfortable seating and steering wheel.

Blue tooth to make hands free phone calls.

USB ports to plug in your cell phone charger or even iPod to listen to music if you wanted.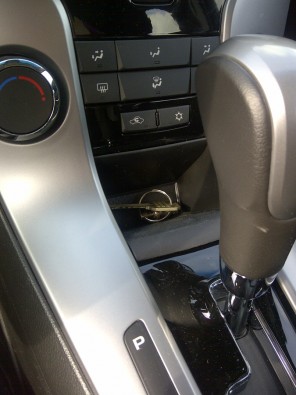 Things I'd like to see changed:
I'd like to see illuminated either cup holders or in the key fob area where you can put spare change (see photo above). I park in an underground parking lot and I sometime fumbled to find the key when it's dark out.

Wish it had more of an arm rest for the driver. I like to drive mostly with my left hand and my right hand still on the wheel but have my elbow resting comfortably on something. There was an armrest, but it would've been more comfortable if it were longer.

The lumbar adjustment is awkwardly too far back.
Thanks again to GM Canada for letting me drive and review the Chevrolet Cruze for the week, it's been fun. Let's do it again sometime soon!