I didn't end up dying my hair at all when I got it done last Friday. In fact, I sort of chickened out.
Initially I wanted to dye my hair all sorts of bright colors like I had done in 2005. Check out my intense orange/yellow hair. It was certainly different, and I remember getting tons of stares from people of all ages. Some weren't friendly stares, but the people who complimented me on it definitely made up for people giving the stink-eye.
Dying my hair was something I wanted done for the climbing competition. I know, it's weird – I dyed my hair to climb. But really, I did. I wanted to stand out, lol.
Here's a photo of me all fake-tanned (BAD!) and dyed hair. The top had light blonde streaks in it:
And the back when I swung my hair around. BAAAAAM orange: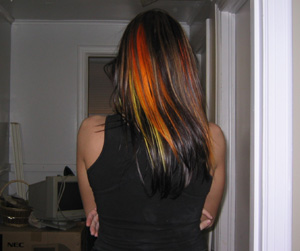 LOVED. IT.
I guess that's how I caught the beau. With my orange hair, it caught his eye. This is was a BBQ I held at my house and Scott and I became a couple that evening, Ha… way back then. Nearly 6 years ago (no Wedding Jewelry yet. Ahem).  Look how young we are. Also, notice that this was in June and I still had to wear a down filled vest. Oh Newfoundland.

Above photo: A few days before the "bbq".I miss that chin scruff of his. He won't grow it back either. Lame.

Well it was nice to reminisce, back to the photos about my hairrr.

I think I'm in need of a change. At least that's what my stylist said he thinks I need, since I keep asking him about hair dyes. So, in March I think I'm going to go ahead with it. Go crazy again. I remember my hair feeling thicker when it was dyed too.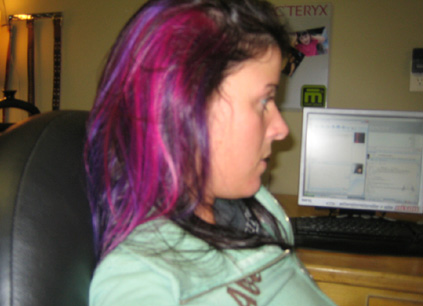 This was my hair after my orange/yellow streaks. I ended up going for purple and bubble gum pink. I HATED it. I think at that time, it was because I wasn't a huge fan of pink and I totally let my stylist go while. I loved how it looked when it was faded though, kind of bleach blonde streaks randomly throughout my hair. Note that my hair was "flicked up" to the side, as the pink/purple was hidden underneath a few layers of hair. It wasn't just BAM pink and purple…lol thought I'd let you all know that.