We usually stock up on groceries on the weekends and go quite late at night so it's less busy. But yesterday we ended up starting our shopping trip at Walmart at around 7pm.
This winter has been phenomenal. I think I had a long sleeved shirt underneath my lightweight coat, and I was totally comfortable. Its been so mild out that you just don't need to dress like a Sasquatch!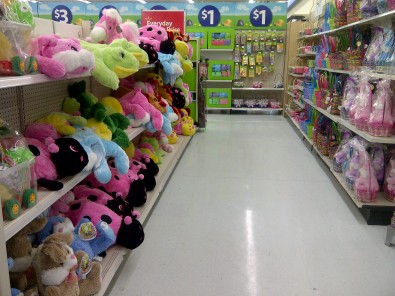 The Easter stuff is out an in full swing. Cadbury cream eggs, I'm a ready for you! I've always been a fan of Easter since it's close to my Birthday. Did you as kids ever get little wicker baskets full of toys, candy and Easter candy when you woke up Easter morning? I think I went for Easter hunts way beyond the appropriate age. Nothing can stop me from hunting down my chocolate candies!
Alright let's get serious. We have a list, and we have to stick to it. It's too easy to get off track in here. So many things I want to buy.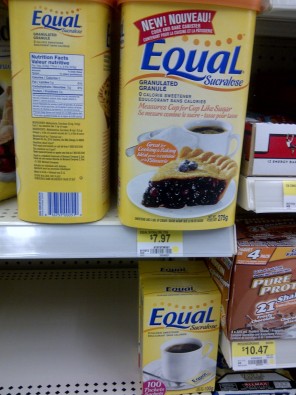 First aisle was in the Pharmacy section to pick up another canister of Equal Canada since it's still on Rollback here for $7.97 (as compared to $9.97). Always like to save a bit of cash. The new yellow canisters of Equal is great because you can bake with it and it can be substituted 1:1 for sugar. I'm thinking of making some chocolate chip cookies from a recipe I found on #EqualCanada Facebook page.
I know a few people who asked me where they could find Equal products, and they're usually in the Pharmacy section/health food area of Walmart. I could never find it in the sugar or baking aisle of the grocery store part.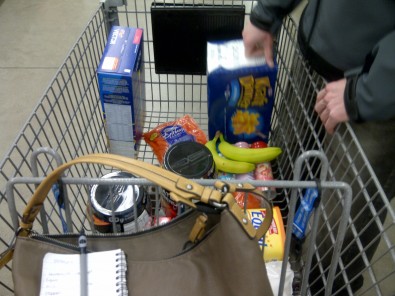 This is so random. But I didn't notice this until my boyfriend pointed it out. I always fuel my belly on Saturday's with Kraft Dinner! I've been doing this for a while. Time to stock up on more!
There's plenty to go around.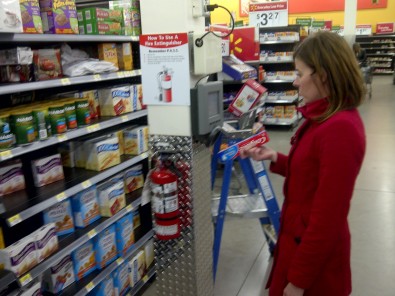 I always like to double check the prices to see if they've rung up properly, especially if they're on sale or Rollback. I'm checking the toothpaste here.
The checkout line went pretty quickly. Here I am placing the last remainders of the things in our shopping cart onto the belt.
Waiting in line to pay for the groceries.
Hope you had fun "shopping with me"! Don't forget you can check out my Google+ story that I also wrote in conjunction with this blog post. You can also find Equal Canada on Twitter, and Equal Canada on Facebook.
This shop has been compensated as part of a social shopper insights study for Collective Bias. #CBias. All opinions are my own.