I have abnormally small wrists. Think the size of a three year old. I've measured, trust me. I mean, you can almost tell how small they are in the photo shown below with my friend Shannon here, when we met up at BlogHer in August.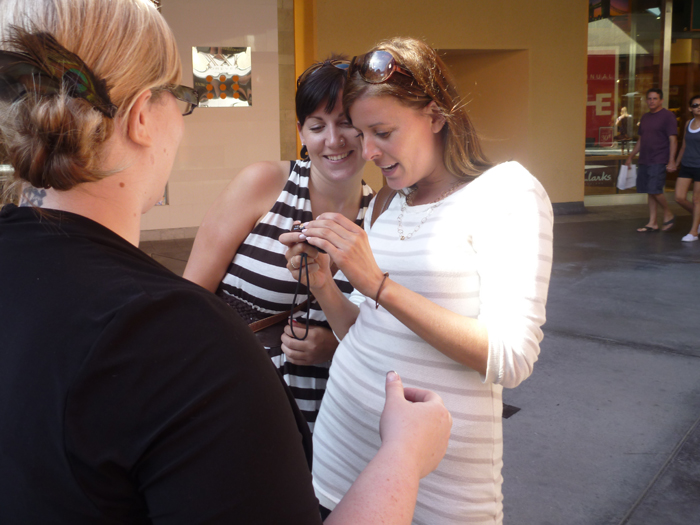 A few months ago I was browsing on the Etsy site and found another fabulous shop. Not only do I love supporting Canadian Etsy seller but the three girls who run HelloBerry are located in Toronto! So so close to me. I definitely had to order some bracelets and I've been sporting them for a few weeks now. Here are mine on my wrist.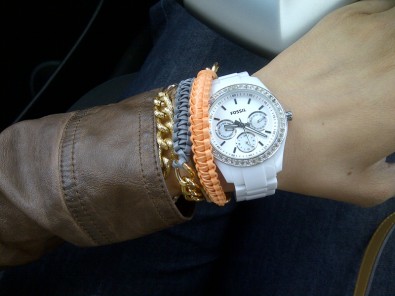 The good thing about the shop is that you can specify what size of bracelet you want. I got the small since I have toddler arms. There's tons of varying sizes and colors to choose from as well as different finishes. I have two mini smoothies and a mini shake which is basically textured "gold". You can kind of notice it if you click the image to enlarge it more.
A few of my friends have already perused HelloBerry and are thinking of picking up some bracelets for themselves, but for the rest of you who haven't, get ready to shop your socks off!
I got my grubby little paws on the gorgeous shades of Mocha, Peach and London Fog. They don't have a clasp, since the bracelets are made out of gimp (remember that??) they can stretch over your hand and onto your wrist. None of my bracelets have stretched out, nor has anything broken. Great little statement pieces for stacking on  your wrists. They've gotten quite a bit of attention when I wear them, and people comment on how they remember making gimp bracelets and key chains when they were younger.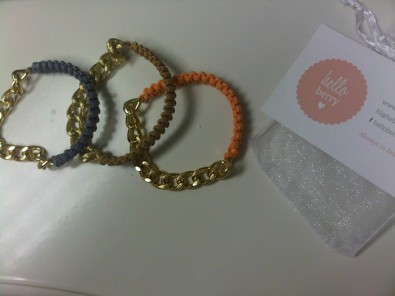 Seriously, the HelloBerry girls have serious wrist candy style and talent in designing jewelry. I'm loving everything from their collection!