My dreams have all come true, and I can now die happy. You guys, I get to review POPCORN!
Are you freaking kidding me? I'm not sure how I lucked into this little number, but I got a pretty sweet gig reviewing some Orville Redenbacher popcorn.
I'm sure many, many of you already know this about me. But when my Boyf's traveling with work and is away for a few nights, I actually dive right into popcorn and eat it for supper. Not the most healthy meal by any means. But some days I really don't feel like cooking and I take great advantage of not doing so when I'm home alone. I may have even overdosed on popcorn, and gotten stomach aches from eating too much of it. But I will always go back to you, Mr. Orville Redenbacher!

I'd show you my candy stash drawer at work, but sometimes my Boyfriend reads my blog and I'd be ashamed to show it ;)
Already, one bag of popcorn is missing. I couldn't even take a photograph of loot before diving in. 4 bags of popcorn!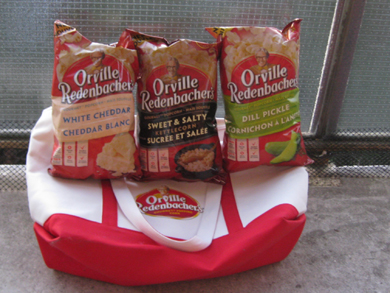 White Cheddar with Chipotle (already in my stomach)

White Cheddar

Sweet & Salty

Dill Pickle
I was given the choice to choose between four different palettes. Tangy, Rich, Sweet, or Zesty and went with the latter.
The Orville Redenbacher popcorn came in a huge tote bag. The canvas tote was used for our beach towels and we brought along the "missing" popcorn (White Cheddar with Chipotle) on our Canada Day trip to the beach last weekend. Note to self, do not bring your blackberry or any other device you wish to get ruined, on the beach. Boyf's Ohio State Wallet got soaked lol. How do these things happen?!

The theme was all red, by the looks of it, hey? Check out the items I got!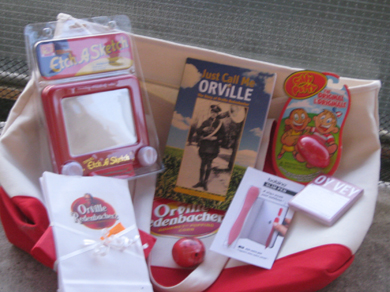 Orville Redenbacher bags to share with friends

Red napkins

Just Call Me Orville book

Silly putty

Popcorn bowl (not shown, it was getting washed after much popcorn usage)

EOS Lip Balm

Etch-A-Sketch

Notepads

Book pen
My Boyfriend is  quite conscious of what he puts into his body and for the most part we eat fairly healthy at home. He had a bit of a concern that the popcorn had a lot of oil content in it. But he compared it to the equivalent of eating popcorn at the movie theaters (we always go back for seconds by the way). So it's all okay in moderation right? I'll try my best not to devour a bag per week. I need to hide them from myself.
What food are you absolutely obsessed with?