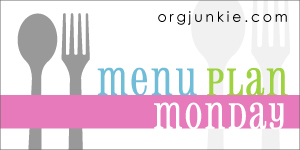 I have decided to partake in Menu Plan Monday and be organized this week! She even has a ton of recipes to choose from.

Monday: Asparagus wrapped in Chicken [ x ]
Tuesday: Pork chops, mashed potatoes, and either broccoli or carrots. Maybe both!
Wednesday: Kitchen sink stuffed chicken [ x ]

Thursday: Chicken Pad Thai [ x ]

Friday: Quiche [ x ], garlic bread and a summer salad

Saturday: Chicken, roasted potatoes, and carrots

Sunday: BBQ Asian Stir fry [ x ]
I don't always stick to the meal plan. Some days I get completely lazy and end up just making pasta with sauce and shredded cheese, or just a big ol' frozen pizza.