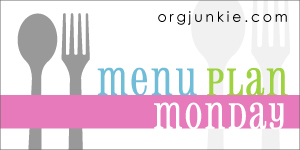 I didn't exactly stick to the previous weekly menu plan so I'm kind of copying my menu somewhat. I initially had all this planned out yesterday but I didn't want to bombard you all with 3 posts in a measly few hours!
SO! I'm doing the weekly menu plan once again. Mmmm, belly is rumblin' just thinking of all these great eats. You can click the [ x ]'s for recipes!

Monday: Butter chicken with basmati rice (ate this last night obvs. SO good. So flavorful as I made it during lunch time and put it in the fridge / reheated it and GOBBLE GOBBLE it went in our tummies).
Tuesday: Pork chops (they were on sale, hooyea) with mashed potatoes (everyone's fav!) with some carrots and broccoli?
Wednesday: Chicken panini's because I've been thinking of it ever since I made it on Sunday! [ x ]
Thursday: Asparagus wrapped in chicken [ x ]
Friday: Chicken wraps, Chicken quesadillas [ x ]or Chicken enchiladas [ x ]. Not sure yet! What do you think?
Saturday: Lost for ideas… maybe I'll crave something and make it.
Sunday: Rich and creamy white chicken spaghetti [ x ]
Not hard to tell we like to eat chicken in this house, is it? We used to eat salmon like once a week as my BF's swim coach sells it at the local market, but we haven't dropped by in AGES. Salmon is the fountain of youth / youthology, you know. I miss it. I think that'd be a great supper idea for Saturday night. Mmm.