First of all, I have to talk about my co–ed soccer game on Friday. I was going flat out during that game, which consequented (is that a word?) in a few accidents caused by the male players on the other team, involving me, and only me. I had somewhat of a breakaway as I was playing forward (winger, preferably), and some guy started to just run along with me, finally he dipped his foot in to grab the ball, but I tipped the soccer ball just a tad so I could hop over his feet and race past him. Unfortunately for me I fell over his legs when he tried to stop the ball from going past him. Which made me fall face first onto the ground
Face.
First.
I know my legs were up in the air when I was flailing about as I was going down, I ended up turning my head sideways so I wouldn't smack my chin off the ground, so instead the BACK of my right shoulder got the brunt of it. Now explain that to me! It all sounds so bad, terrible and horrific. Seeing how everyone was surrounding me and when I looked up the guy who tripped me, was kneeling down in front of me. Immediately, I got up and started playing again. Of course, it was a foul so we got a free kick out of it that one of the guys took for me. My neck and my right lat is so sore. I'm so glad I had a chiropractor appointment today. My co–worker was also at the game (he's about 55–60yrs old and loves soccer) he told me this morning that he didn't think I was going to get up! I must have been down there a while. I guess I didn't realize it.

It wasn't the only weird thing that happened during Friday's game. It was a corner kick and I ended up trying to whack the ball in the net, and somehow I collided with another male player from the other team, and he caught me from behind. Literally. He caught me. I don't know if I jumped in the air, or what happened. It was awkward, but I told him "good catch". Cause…what do you really say? Thank you would've been too weird. Really?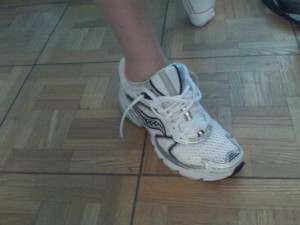 I also picked up my Saucony Ride's I was talking about! Initially I had tried them on last Saturday at the price of $119. I went to the National Sport  store, the same day and saw that they were 20% off. I was still hesitant on purchasing them though, because I'm a stindge with my money lately. On Wednesday my Boyfriend received an e–mail from one of the speciality stores (where I first tried them on) and the owner/manager/whatever–he–is, sends out e-mails to people who obviously subscribe to them, and mentioned that there was an overload of Saucony's in stock and they need to be sold! Sold at
40% off that is, my friends! Soo… my beautiful new runners cost me a mere eighty bucks tax in. How sweet it is. However, they didn't have my size in the red that I wanted. Apparently boyfriend thinks that the green ones are much more unique in a sneaker, not my first choice as I don't think I even own anything green, but since I haven't purchased a pair of runners since 2004, you can obviously say I was in dire need of some new ones.
Move onto Saturday, where the boyfriend had another triathlon and I skipped my pedicure appointment to help him (because going to tri's is much more involved than Du's — he needed help putting on his wet suit!). Shocking, I know. I made sure he felt bad, knowingly canceling my pedi appointment (it's okay I have another appointment for tomorrow hee hee). I had a chiropractor check up this A.M, and my nails weren't painted pretty.  Whatevs. There's been worse cases he has seen, I'm sure. And thanks
to Ashley's comment — Karma was definitely on our side, because my Boyfriend placed first in his age group, and 11th over all. More importantly to him, he had the second fastest bike time (km's/hr) in the whole race! That's HUGE you guys. The fastest guy was only five seconds ahead of him. Ow ow!

Saturday night my boyfriend drove to Toronto to stay with one of his friends so he'd wake up bright and early (5AM!) to get ready for the Ride For Heart on Sunday morning. After, he came home
had a 2 softball games, and we headed out to a friends BBQ (we were un–fashionably 3 hours late) Eugh! At least it was warm enough where I could wear a nice summery outfit. (Excuse the  dirty mirror!) I felt bad, especially because I only get to see the wife and child of boyfriend's ex–co–worker, once a year. It's so awkward when you haven't seen someone in such a long time and you've got so much to talk about, but so little at the same time. Have you ever been in that sort of situation before, too? Weird isn't it!?

Basically all we did this weekend was live out of the car. Between soccer, tri's, softball and shopping I don't think we did anything else but eat, sleep and clean up the apartment! Sheesh. It doesn't stop there either! Next weekend and the weekend after will be equally as busy. My boyfriend's sister is coming to stay with us for a short vaca next week and I'm so excited to have a female friend around, again! Then next weekend, Boyf and I are heading up to the beautiful area of Muskoka for a very competitive tri on Sunday! Weeee!!! I love summer.